---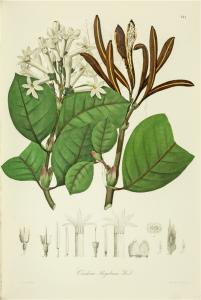 Florae Columbiae terrarumque adiacentium specimina selecta in peregrinatione duodecim annorum observata delineavit et descripsit.
Eur 40,000 / USD 44,000
The price shown on each item does not include V.A.T (Value Added Tax). As a result of the recent EU legislation we are required to charge our EU customers the percentage of V.A.T. charged by the customer's country of residence, unless they possess a V.A.T. registration number. Postage Additional.
Berolini, apud Ferdinandi Duemmleri successores, 1858-1869. 2 volumes. Folio (500 x 350 mm.). pp. (6), 200, (2, index); pp. (2), 188, (2, index) with 200 handcoloured lithographed plates. Contemporary green half morocco, richly gilt decorated spines with gilt lettering, topedges gilt.
One of the rarest and most splendid publications on South American botany
One of the rarest and most splendid publications on South American botany. Following the example of Alexander von Humboldt, Hermann Karsten conducted a 12 year exploration (1844-1856) in the territories of Ecuador, Columbia and Venezuela of which the present publication is the result. Karsten was a German botanist and from 1856-1868 professor of botany in Berlin; 1868-1872 in Vienna; from 1872 onward in Berlin. Wilhelm Junk in his catalogue 'Bibliographia Botanica' of 1909 states that coloured copies have become very rare and prices the copy Mark 600, one of the most expensive items in this catalogue with almost 7000 items. Some occasional spotting and paper toning. The Rare Book Hub records only 3 copies since 1958.

Great Flower Books p. 62; Nissen BBI, 1028; Sabin 37104; Stafleu & Cowan 3523.