---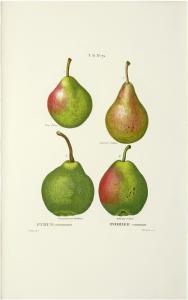 Traité des Arbres et Arbustes que l'on cultive en pleine terre en Europe, et paticulièrement en France.
Eur 50,000 / USD 55,000
The price shown on each item does not include V.A.T (Value Added Tax). As a result of the recent EU legislation we are required to charge our EU customers the percentage of V.A.T. charged by the customer's country of residence, unless they possess a V.A.T. registration number. Postage Additional.
Paris, Librairie encyclopédique Roret, (1852?). 7 volumes. Folio (503 x 325mm). With 1 engraved title-vignette and 498 engraved plates, of which 496 printed in colour and finished by hand, mostly after Redouté. Later green half morocco, gilt lettered spines in 6 compartments.
the most beautiful dendrological work published
Large Paper copy of the most beautiful dendrological work published. The first edition of this work appeared in Paris in 2 volumes in 1755 with woodcuts from the blocks by Mattioli, which Duhamel du Monceau had acquired. The above, virtually independent work - commonly known as the "Nouveau Duhamel" - was issued in 83 parts (1800-1825). The present copy is an identical reissue. Stafleu & Cowan no.1547 give 1852 with a question mark as date of publication, the titlepage bears no date. Its text really owes rather little to Duhamel, but was so named more as an act of piety. In fact the principal contributors were J.L.A. Loiseleur-Deslongchamps, C.F. Mirbel, J.H. Jaume St. Hilaire, E. Michel, and L.J.M. Poiret. About 30 different engravers were involved for the printing of the beautiful plates, of which 463 are after drawings by P.J. Redouté, and 33 after P. Bessa. An imposing work, which remained for decades one of the basic works for Western European dendrological botany.

Dunthorne 243; Great Flower Books 55; Nissen BBI, 549; Catalogue of Redoutéana, 14; Stafleu & Cowan 1547.