---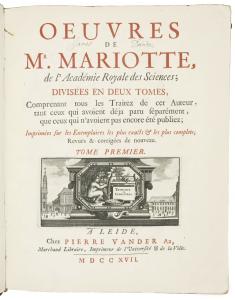 Oeuvres de Mr. Mariotte, de l'Academie Royale des Sciences; divisées en deux tomes, comprenant tous les Traitez de cet Auteur, tant ceux qui avoient déja paru séparément, queceux qui n'avoient pas encore été publiez; Imprimées sur les Exemplaires les plus exacts & les plus complets. Revuës & corrigées de nouveau.
Eur 1,500 / USD 1,700
The price shown on each item does not include V.A.T (Value Added Tax). As a result of the recent EU legislation we are required to charge our EU customers the percentage of V.A.T. charged by the customer's country of residence, unless they possess a V.A.T. registration number. Postage Additional.
Leide, Pierre Van Der Aa, 1717. 2 volumes (bound in one). 4to (240 x 190mm). pp. (12), 1-320; (4), 321-701, (35), with 2 engraved title vignettes and 26 folding engraved plates. Contemporary calf, spine reback with old spine laid down.
First collected edition, containing all of Mariotte's published works. Edme Mariotte, his date of birth is unknown, died in 1684. 'Honored as the man who introduced experimental physics into France. Mariotte played a central role in the work of the Paris Academy of Sciences shortly after its formation in 1666... His detailed arguments from plant anatomy and a series of ingenious experiments failed to resolve the controversy completely, and only in the early 1670's did accumulated evidence provided by others vindicate his position? As an active member of the Academy for over twenty-five years, Mariotte exerted influence over scientific colleagues both within and without that institution? His work was known to the Royal Society and was cited by Newton in his 'Principia' (DSB, IX p. 114 & 120).

His 'Oeuvres' contains the following contibutions: 1. Traité de la percussion ou choc des corps; 2. Essays de physique, pour servir à la science des choses naturelles; a. De la végétation des plantes; b. De la nature de l'air; c. Du chaud et du froid; d. De la nature des couleurs; 3. Traité du mouvement des eaux et des autres corps fluides; 4. Règles pour les jets d'eaux; 5. Lettres écrites par MM. Mariotte, Pecquet et Perrault sur le sujet d'une nouvelle découverte touchant la veüe par M. Mariotte; 6. Traité du nivellement, avec la description de quelques niveaux nouvellement inventez; 7. Traité du mouvement des pendules; 8. Expériences touchant les couleurs et la congélation de l'eau; 9. Essay de logique, contenant les principes des sciences et la manière de s'en servir pour faire des bon raisonnements.