---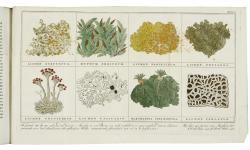 Katechismus der natuur.
Eur 750 / USD 800
The price shown on each item does not include V.A.T (Value Added Tax). As a result of the recent EU legislation we are required to charge our EU customers the percentage of V.A.T. charged by the customer's country of residence, unless they possess a V.A.T. registration number. Postage Additional.
Amsterdam, Johannes Allart, 1782-1791. Royal-8vo (215 x 120mm). 4 volumes & 4 supplements (bound in6). With 4 engraved frontispieces and 31 (5 handcoloured) engraved plates. Contemporary half calf, gilt ornamented spines and blue and green gilt lettered labels.
A beautifully bound copy of the 5th edition, with the rare supplements by J. de Vries. The book was immensely popular during the 18th and 19th century and is written in the form of a dialogue between a young prince and his teacher. He studied theology and philosophy and gained a doctorate in both disciplines at the university of Leiden in 1751 and 1753. Martinet was an adherent of Physico-Theology, the conviction that one had to study nature in order to truly see the miracles of God?s design of the world. His most important work, the 'Katechismus der Natuur', (5 eighteenth century reprints), has been translated into French, German, English and even Japanese. The supplements are in the 4th edition.