---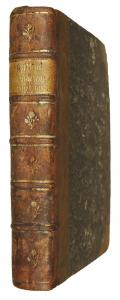 Beyträge zur Pflanzen-Anatomie, Pflanzen-Physiologie und einer neuen Charakteristik der Bäume und Sträucher.
Eur 500 / USD 600
The price shown on each item does not include V.A.T (Value Added Tax). As a result of the recent EU legislation we are required to charge our EU customers the percentage of V.A.T. charged by the customer's country of residence, unless they possess a V.A.T. registration number. Postage Additional.
Leipzig, H. Gräff, 1799-1801. 7 parts, bound in one. 8vo (172 x105mm). pp. 521, (3). Contemporary half calf, spine with gilt lettered label and gilt ornaments.
"Medicus was the most prolific, bitter, witty, and sarcastic of those contemporary opponents of Linnaeus who ignored or assailed his innovations. Apart from invective and references to Linnaeus' shortcomings, errors, and inconsistencies, Medicus' numerous works contain many firsthand botanical observations, particularly of Leguminosae, Cruciferae, Malvaceae, and Rosaceae, and are both of historical and nomenclatural importance" (DSB IX, p. 253).

Provenance: Bookplates of Bibljoteka Julinska and H.F. Bienfait. Small stamp and old autograph on title.

Stafleu & Cowan 5780.