---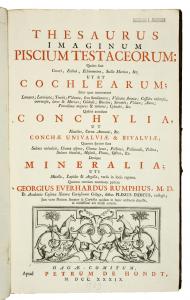 Thesaurus imaginum Piscium Testaceorum; Quales sunt Cancri, Echini, Echinometra, Stellae Marinae,&c. ut et Conchlearum...
Eur 4,500 / USD 4,700
The price shown on each item does not include V.A.T (Value Added Tax). As a result of the recent EU legislation we are required to charge our EU customers the percentage of V.A.T. charged by the customer's country of residence, unless they possess a V.A.T. registration number. Postage Additional.
Hagae, P. de Hondt, 1739. Folio (400 x 245mm). pp. (4), 14, 8, with engraved title, engraved portrait of Rumphius and 60 engraved plates. Contemporary mottled calf, gilt ornamented spine with red gilt lettered label in 7 compartments, sides with gilt border (a bit rubbed).
the first modern work on tropical fauna
An important work on shells and minerals, the first modern work on tropical fauna. The second and last Latin edition, the first Dutch edition was published in Amsterdam in 1705. Rumphius was employed by the Dutch East India Company and spent the greater part of his life on the island of Ambon, a small but important trading centre in the Dutch East Indies. "(It) is full of accurate and detailed observations on the invertebrate animals encountered by him and the molluscs are given special attention... First and foremost he was a brilliant field naturalist. He was a man with a remarkable gift for descriptions..." (Dance p. 27). Rumphius was far ahead of his time by accurate recording of locality and the attention he paid to molluscan ecology. It is only recently known that the fine plates of this work are by Maria Sibylla Merian.
In 1999 an English translation by E.M. Beekman of the first Dutch edition, 'The Ambonese Curiosity Cabinet' appeared, with an excellent introduction. Title and frontispiece with former owner's stamp in the upper margin.

Nissen ZBI, 3520.