---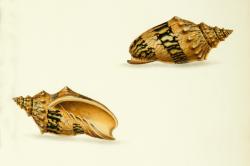 The Universal Conchologist, exhibiting the Figure of every known Shell, accurately drawn and painted after Nature: with a new systematic arrangement by the Author ... London,sold at his house no.
Eur 28,000 / USD 33,600
The price shown does not include 9% V.A.T. As a result of the EU legislation we are required to charge our EU customers 9% V.A.T., unless they possess a V.A.T. registration number.
16 Great Malborough Street, (1784-) 1789. 2 volumes bound in one. Large 4to (345 x 280mm). With handcoloured engraved frontispiece of a shell within a gilt Greek key border, 2 engraved title pages, engraved dedication leaf, 2 tables, and a plate of medals, 39 pages of text in English and French, and 80 handcoloured engraved plates. Contemporary calf, with gilt Greek key borders on sides, spine with elaborate, gilt classical ornaments and shells, gilt turn-ins.
One of the most beautiful of all shell books, containing exquisite renderings of shells collected on Cook's three voyages
A fine copy of probably the most attractive shell book ever published. The work was extended to four volumes but these two, devoted to shells of the South Seas, were published as a separate work. From the introduction to 'The Universal Conchologist' we learn that it was 'to commence with the figures of shells (most of them rare and nondescript) which have been collected by several officers of the ships under the command of Captain Byron, Wallis, Cook, and others made to the South Sea'. When the 'Resolution' and the 'Discovery' returned from the third and last voyage in 1780 (the dealer) Humprey purchased some more shells, but the bulk of the conchological spoils were this time to Thomas Martyn, a knowledgeable dealer, versatile writer and gifted artist... "Unlike Humphrey and other dealers who snapped up the Cook shells Thomas Martyn had more than a pecuniary interest in his purchases, Martyn's reason for wanting to corner the market in South Seas shells was entirely praiseworthy; although he sold many of the shells he had bought, he illustrated the finest in 'The Universal Conchologist', his magnum opus (and) a work, which for beauty, has seldom been surpassed in the history of conchological iconography" (Dance, Hist. of Shell Collecting). The fine plates were drawn by Martyn and engraved and coloured by his 'Academy' of young men who he had trained as natural history artists. The plates, each showing a single species in two positions, were engraved in soft aquatint and printed lightly inked, so that when handcoloured they would resemble watercolours. The history of the Academy and preparation of the plates is explained in Martyn's preface. "One of the most beautiful of all shell books, containing exquisite renderings of shells collected on Cook's three voyages and on other voyages, with specimens identified as having been obtained from New Holland, New Zealand, Tahiti, Tonga, and the Hawaiian Islands... Due to their exquisite coloring the plates have sometimes been mistaken for original watercolors (Forbes, Hawaiian National Bibliography I, 80).

Provenance: Armorial bookplate of 'Aluredi Barones de Braye', and another armorial bookplate of Otway Cave on inside frontcover; former owner's stamp on title-page.

Nissen ZBI, 2728; Dance 209. For notes on the publishing history of this work see: Dall, Thomas Martyn and the Universal Conchologist (Proc. U.S. Nat. Museum 39, no. 1425).