---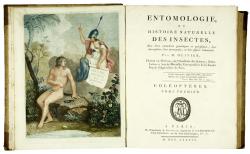 Entomologie, ou histoire naturelle des Insectes, avec leurs caractères génériques et spécifiques, leur description, leur synonymie et leur figure enluminée. COLÉOPTÈRES.
Eur 6,000 / USD 6,900
The price shown on each item does not include V.A.T (Value Added Tax). As a result of the recent EU legislation we are required to charge our EU customers the percentage of V.A.T. charged by the customer's country of residence, unless they possess a V.A.T. registration number. Postage Additional.
Paris, Baudouin/ Lanneau, 1789-1795. Volumes 1-3 (of 6). Large-4to (297 x 240mm). With 1 colour-printed engraved frontispiece and 190 hand-coloured engraved plates. Contemporary half calf, spines in 6 compartments with gilt lettered labels and gilt lines.
Its fine plates, depicting thousands of various species of Coleoptera
The first 3 volumes of this scarce work. The complete work has 6 volumes with 362 plates. Its fine plates, depicting thousands of various species of Coleoptera, are by J. Audebert, J.L. Reinold and Meunier, and engraved by Copia, Desfontaines, Manceau, Sellier and F.L. Swebach. Guillaume Antoine Olivier (1756-1814) was one of the greatest of the early French naturalists and an entomologist of high standing. He was a close friend of J.C. Fabricius and a patron of P.A. Latreille. His large collection of beetles (now for the larger part in the Museum at Paris), gathered on journeys through European & Asiatic Turkey, Asia Minor, Persia, Egypt, and various Mediterranean Islands, is described in his famous work, by which he became nationally known as a great entomologist. Australian and New Zealand insects from the Banks collection are likewise described as well as some American insects.
"He was working on his 'Entomologie, ou histoire naturelle des insects?' a multi-volume treatise being prepared under the patronage of the wealthy Jean-Baptiste Gigot d'Orcy, himself an entomologist? and his 'Entomologie ?' contained references to New Zealand insects, and he was able to illustrate the latter with Banks's insects seen at first hand" (Andrews, The Southern Ark, zoological discovery in New Zealand 1769-1900 p. 45). See also D. Miller, Bibliography of New Zealand Entomology 1775-1952 p. 272 and A. Musgrave, Bibliography of Australian Entomology 1775-1930 p. 243. "Olivier added some 87 new species of American insects?" (Essig, A history of Entomology p. 721). The complete work comprises 100 different sections. The first 3 volumes we are offering have 65 sections, which you find listed here below:
Vol. I: Lucanus, Lethrus, Scarabaeus, Trox, Melolontha, Cetonia, Hexodon, Hister.
Vol. II: Dermestes, Nicrophorus, Silpha, Nitidula, Byrrhus, Anthrenus, Sphaeridium, Anobium, Ptinus, Ips, Trogossita, Scaphidium, Melyris, Tillus, Drilus, Omalisus, Lymexylon, Telephorus, Malachius, Lampyris, Lycus, Melasis, Elater, Buprestis, Cicindela, Elaphrus.
Vol. III: Carabus, Scarites, Elophorus, Hydrophilus, Dytiscus, Cyrinus, Staphylinus, Oxyporus, Paederus, Meloe, Cantharis, Mylabris, Cerocoma, Lagria, Aedemera, Notoxus, Apalus, Pyrochroa, Cistela, Diaperis, Opatrum, Tenebrio, Helops, Pimelia, Blaps, Sepidium, Scaurus, Erodius, Mordella, Ripiphorus.

A very fine and clean copy.

Hagen I, 21; Horn & Schenkling 899; Nissen ZBI, 3012; W. Junk, Bibliographia Coleoptera 2545 'Très -rare. Les premiers volumes se trouvent parfois isolément'.