---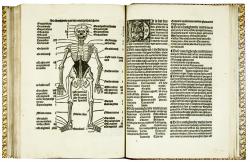 MET AL SIJN FIGUREN DIE ORTUS SANITATIS GENAEMT IS OM DIE CRACHTEN VÃ ALLE CRUYDEN TE WETENÉ?.
Eur 29,000 / USD 33,400
The price shown on each item does not include V.A.T (Value Added Tax). As a result of the recent EU legislation we are required to charge our EU customers the percentage of V.A.T. charged by the customer's country of residence, unless they possess a V.A.T. registration number. Postage Additional.
Antwerpen, (Claes) de Grave, June 1526. Folio (270 x 195mm). 188 Leaves, with over 400 woodcuts. Early 20th century red morocco, richly gilt decorated sides, gilt decorated spine in 6 compartments, gilt edges.
ONE OF TWO COMPLETE COPIES KNOWN (see Hunt 24)
ONE OF TWO COMPLETE COPIES KNOWN (see Hunt 24). The copy of F.W.T. Hunger, famous collector of early herbals, with his bookplate. His library was auctioned in 2 catalogues by Menno Herzberger in 1952. The present copy was number 31 of the first catalogue and sold to Rosenthal (according to manuscript note written in our catalogue). F.W.T. Hunger (1874-1952) 'devoted himself exclusively to the history of botanical sciences, and especially to the classical and 16th century herbals? In 1917 he was called to the University at Leyden, as a Lecturer? later on he became Director of the Institute for the History of medicine and Biology at that town. In his quality of botanico-historian he published numerous articles about prominent scientists of the past?' (From the introduction of the auction catalogue).
First two leaves with paper repair at the outer margin with loss of some letters, the following two leaves with paper repair at the outer margin, followed by a few leaved with minor repair at corner(s), last leaf probably taken from a shorter copy, browned and some paper damage with loss of a very few letters. At the end bound in 10 final leaves of the 1533 edition by C. de Grave of the same work. Apart from the mentioned defects a good copy, with some occasional browning.
An incomplete copy of the present edition was offered in the famous Klebs catalogue 'A catalogue of early herbals?. of Dr. Karl Becher' by L'Art Ancien in 1925. The present work is a Dutch translation of the 'Gart der Gesundheit' first published by Peter Schoeffer in 1485. It is the second edition by Claes de Grave. "In Dr. Klebs's opinion the 'Gart der Gesundheit' was a landmark in the history of botanical illustration, one which marked perhaps the greatest single step ever made in that art; its delineations of plants, breaking away from the traditional stylized woodcut, were not only unsurpassed, but unequalled for nearly half a century. Textually, too it was an original concept, giving a compendium of the whole pharmacy of the early printed works?" (Hunt 5). "Claes de Grave's book is a literal translation of the German edition by Peter Schöffer (Mainz 1485)..."(Botany in the Low Countries, 7)

Nissen BBI, 2290; Hunt 24; Nijhoff-Kronenberg 1052; Botany in the Low Countries (end of the 15th century - ca. 1650), 7.