---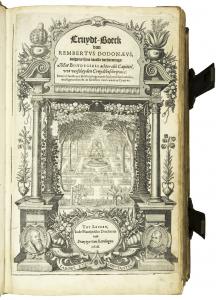 Cruydt-Boeck ... volgens sijne laetste verbeteringe: Met Biivoegsels achter elck Capittel, vvt verscheyden Cruydtbeschryvers: Item in't laetste een Beschrijvinge vande Indiaensche Gewassen, meest getrocken wt de schriften van Carolus Clvsivs.
Eur 7,500 / USD 8,300
The price shown on each item does not include V.A.T (Value Added Tax). As a result of the recent EU legislation we are required to charge our EU customers the percentage of V.A.T. charged by the customer's country of residence, unless they possess a V.A.T. registration number. Postage Additional.
Leyden, inde Plantijnsche Druckerije van F. van Ravelingen, 1618. Folio (350 x 215mm). pp. (32), 1495, (56), with engraved pictorial title and 1470 woodcuts in the text. Contemporary vellum over boards, covers with centre-piece and 2 brass clasps, spine in 8 compartments with red gilt lettered label.
A masterwork what botany in the Dutch speaking countries is concerned
A splendid copy in its original binding with its original brass claps. Second and enlarged edition of this monumental Dutch herbal. "A masterwork what botany in the Dutch speaking countries is concerned" (Botany in the Low Countries no. 37). It is a translation of his 'Stirpium historiae pemtades sex' first published by Plantin at Antwerp in 1583. The first edition of the 'Cruydt-Boeck' was published in 1608. The 'Cruydt-Boeck' must not be confused with his earlier published 'Cruydeboeck' of 1554 and 1563 which was based on Fuch's herbal.
"This edition contains more woodcuts than the preceding, as well as new descriptions of exotic plants taken from the works of Prosper Alpinus and Fabius Columna." (Menno Herzberger. Herbals? from the Hunger collection 209). Rembert Dodonaeus (1517-1585), Flemish physician and botanist, was one of the three great Flemish botanists in the second half of the 16th century, the others being Clusius and Lobel. Dodonaeus graduated from the University of Louvain in 1535. After working in Malines as a physician he moved to Vienna to assume the post of personal physician to Emperor Maximilian II, later he moved to Prague when Rudolph II succeeded Maximilian. In 1582 Dodonaeus was appointed professor of botany at the University of Leiden. The 'Cruydt-Boeck' has been the most important and popular herbal in the Dutch language.

Nissen BBI, 518; Pritzel 2345.