---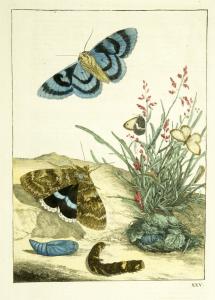 Naauwkeurige Waarneemingen omtrent de veranderingen van veele Insekten of gekorvene Diertjes, die in omtrent vijftig Jaaren, zo in Vrankrijk, als in Engeland en Holland, bij een verzameld naar 't Leven konstig afgetekend en in 't Koper gebragt zijn.
Eur 3,800 / USD 4,400
The price shown on each item does not include V.A.T (Value Added Tax). As a result of the recent EU legislation we are required to charge our EU customers the percentage of V.A.T. charged by the customer's country of residence, unless they possess a V.A.T. registration number. Postage Additional.
Amsterdam, J. Sluyter, 1774. Folio (440 x 265mm). pp. (iv), 34, (2), with 1 handcoloured engraved title-vignette and 33 handcoloured engraved plates. Contemporary half calf, gilt ornamented spine in 7 compartments with red gilt lettered label.
attractive work on butterflies, their larvae and their food plants
A large uncut copy of the second enlarged edition edited by M. Houttuyn. "One year after the author's death his collection of butterflies and other insects was sold in auction. The copperplates of the first edition and letterpress was bought in auction by Sluyter. Houttuyn who had borrowed eight plates with description from Ladmiral when he was working on the section Butterflies for his edition of Linnaeus, offered the publisher to edit these together with the first 25 plates. In total seventy metamorphoses are depicted on thirty-three hand-coloured plates" (Landwehr 105). Second enlarged edition of this attractive work on butterflies, their larvae and their food plants. The first edition was published in 1740 with 25 plates only. The fine plates were all drawn and etched by l'Admiral himself. He was a gifted amateur entomologist, who began to study insects at the early age of ten years. The plates in this copy are particularly well coloured and more attention has been paid to details than other copies we have sold or seen. Occasional slight dampstaining at the out margin of some text leaves not affecting the fine plates.

Hagen I, 3; Horn & Schenkling 53: "Selten"