---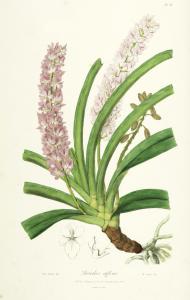 Sertum Orchidaceum: A Wreath of the Most Beautiful Orchidaceous Flowers.
Eur 20,000 / USD 23,000
The price shown on each item does not include V.A.T (Value Added Tax). As a result of the recent EU legislation we are required to charge our EU customers the percentage of V.A.T. charged by the customer's country of residence, unless they possess a V.A.T. registration number. Postage Additional.
London, James Ridgway and Sons, (1837-) 1838 (-41). Folio (545 x 360mm). pp. (xiv, 78), with a handcoloured lithographed frontispiece, dedication to the Duke of Devonshire, and 49 handcoloured lithographed plates. Contemporary half calf, richly gilt decorated spine in 7 compartments, marbled sides (some skilfull old repairs).
One of the finest orchid books ever published
One of the finest orchid books ever published. Nearly all plates are after drawings by Miss Drake, and lithographed by M. Gauci. These two also collaborated on Bateman's 'Orchidaceae of Mexico and Guatemala'. In the 1800s numerous new genera and species of orchids were introduced in the European glasshouses and herbaria, so that the terminology of the orchidaceous plants became increasingly confusing. John Lindley "developed a system of enumerating all the known orchids of the world, thus becoming known as 'the father of modern orchidology'... In his position as orchid authority for British horticulture, Lindley began receiving a steady stream of material for study and types and duplicates of numerous new genera and species from all parts of the world... The orchids were his particular favorites, and the various works he wrote on them will probably be regarded as the most favorable specimens of what he has done and what he could do; and let us own that there are few botanists who would not be glad to have written them, as there are few whose botanical career has been more useful than that of John Lindley." (Reinikka. History of the Orchid, pp. 153-159).

John Lindley (1799-1865), botanist and horticulturalist attracted at an early age the attention of Sir Joseph Banks who employed him as an assistant librarian. Through him he came into contact with most of the major botanists of his day. He was also partly in charge of the garden at Cheswick which was being formed by William Spencer Cavendish, the sixth Duke of Devonshire. In 1829 he was appointed Professor of Botany at the University College London, an appointment he was to hold for the next 30 years. Together with James Bateman he became the most important orchidologist of the 19th century in England.

As usual with this book some occasional very light foxing.

Nissen BBI, 1205; Great Flower Books p. 65.