---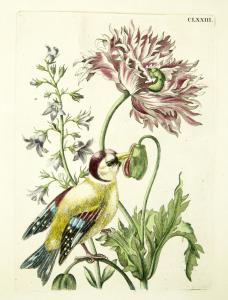 Histoire des Insectes de l'Europe. Dessinée d'après nature... Où l'on traite de la Generation & des différentes Metamorphoses des Chenilles, Vers, Papillons, Mouches & autresInsectes; & des Plantes, des Fleurs & des Fruits dont ils se nourissent, Traduite du Hollandois en Francois par Jean Marret.
Eur 50,000 / USD 55,000
The price shown on each item does not include V.A.T (Value Added Tax). As a result of the recent EU legislation we are required to charge our EU customers the percentage of V.A.T. charged by the customer's country of residence, unless they possess a V.A.T. registration number. Postage Additional.
Amsterdam, J.F. Bernard, 1730. Folio (515 x 365mm). pp. (4), 84 with 1 fine contemporary hand-coloured engraved frontispiece within a garland of flowers, 94 contemporary hand-coloured engraved plates containing 184 engravings, one hand-coloured engraved vignette and 1 title-vignette. Contemporary calf, gilt decorated spine in 10 compartments with gilt lettered red label (some old restorations and original spine laid down).
the De Luxe issue with 2 engravings, occasionally one, printed on one leaf instead of 4 in the regular edition
First French edition, the De Luxe issue with 2 engravings, occasionally one, printed on one leaf instead of 4 in the regular edition. Only a very few copies are known of this special issue . This rare special issue, where the engravings are printed on 94 leaves instead of 47 is mentioned by Pfeiffer 'Die Werke der Maria Sibylle Merian' (1931) Nr. A, 8 (page 28) with the following comment: 'Nur wenige Exemplare...'
The book is a French translation of Merian's 'Der Rupsen Begin, Voedzel en Wonderbaare Verandering' (1713-1717), which was issued in 3 parts in 4to. Merian's 'Histoire des Insectes de l'Europe' includes her earlier published 'Blumenbuch', of which the first edition of 1675-1680 was sold a few years ago at auction for Pounds 565,250 (including premium). Of the second edition renamed 'Neues Blumenbuch' only 6 copies have survived. Frédéric Bernard, the publisher of the 'Histoire des Insectes...', had purchased the copper plates of the 'Der Rupsen Begin' and the 'Blumenbuch' from Johannes Oosterwyk, and believed that the plates for the 'Blumenbuch' had not previously been published, which suggests that Merian's earlier work had already been forgotten. Maria Sibylla Merian was one of the first to observe and describe metamorphoses of European insects, portraying, describing and publishing them with painstaking precision. Her 'Der Rupsen Begin' is a pioneer study. It is dedicated to 'explorers of nature, art-painters and garden lovers'.

Maria Sibylla Merian was one of the most remarkable naturalists of the 17th and 18th century, daughter of the renowned publisher Matthäus Merian of Frankfurt. Already at the early age of thirteen she began studying insects. She became the most celebrated woman artist of her time and many of her drawings were acquired by Tsar Peter the Great. "The work of these years consisted of both scientific and artistic activity: Merian collected and raised insects, fed them with their host plants, observed them, described and drew their metamorphoses from egg to caterpillar and from pupa to butterfly imago. She then compiled her individual observations and studies in pictorial compositions" (Maria Sibylla Merian, Artist and Naturalist 1647-1717, p. 103). A interesting association copy.

Provenance: Armorial bookplate of Marmaduke Tunstall (1743-1790) famous English ornithologist and collector. His 'Ornithologica Britannica' (1771) is the first British work to use binominal nomenclature. In 1771 he was elected fellow of the Royal Society. His private museum which was moved to Wycliffe, his private estate, was one of the finest in England.

Nissen BBI, 1342; M.A. Pfeiffer p. 28; K. Wettengl 'Maria Sibylla Merian 1647-1717 Artist and Naturalist', no. 156 page 247.