---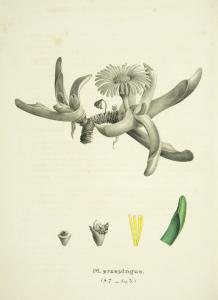 Monographia generum Aloes et Mesembryanthemi.
Eur 18,000 / USD 18,900
The price shown on each item does not include V.A.T (Value Added Tax). As a result of the recent EU legislation we are required to charge our EU customers the percentage of V.A.T. charged by the customer's country of residence, unless they possess a V.A.T. registration number. Postage Additional.
Düsseldorf, Arnz; Bonn, Cohen, 1836-1863. 4to (315 x 245mm). 7 parts bound in 3 volumes. With 352 partly hand-coloured lithographed plates and explanatory text. Contemporary half calf, spines in 3 compartments with gilt lettering.
A foundation work on succulents, describing many South African species
First and only edition. A foundation work on succulents, describing many South African species. Prince Joseph Maria von Salm-Reifferscheid-Dyck (1773-1861) was born at Castle Dyck near Düsseldorf. He was closely associated with the French botanists and botanical artists of the Napoleonic period. "His friendship for Redouté, the painter, who illustrated de Candolle's 'Plantarum Succulentarum Historia' led Salm-Dyck to devote himself thence-forward to the study of succulent plants. He took lessons in drawing and painting from his friend, and began to develop a living collection of succulents at Dyck...' (Curtis Botanical Magazine Dedications p. 67). Soon his collection of living succulent plants at Schloss Dyck became famous throughout Europe and was unrivalled at his time. "Das Buch blieb, wie gesagt, durch den Tod des Autors unvollständig, so dass der sicher beabsichtigte General-Index nicht erschienen ist... Die 'Monographia', seit langem vergriffen, ist, da die Nachfrage immer grösser wurde, rapide im Preis steigend, zumal vollständige Exemplare... geradezu verschwunden sind..."(Junk 'Rara' p. 109). William T. Stearn published an annotated index to the work.

The excellent plates are hand-coloured lithographs of drawings by the author and are always partly coloured. Wilhelm Junk gives an exact collation of the work which agrees with the above offered copy. The work is a great rarity and we have only offered 2 copies during the last decades. In our catalogue 276 we offered Prince Salm-Reifferscheid-Dyck's own copy priced fl. 120.000 (about Euro 55.000). Due to the quality of the paper the book has some browing and foxing throughout.

Kerkham, Southern African Botanical Literature, no. 577; Junk Rara pp. 107-109; Nissen BBI, 1720; Stafleu & Cowan TL2 10.129.