---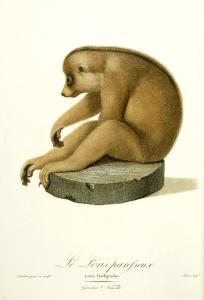 Histoire Naturelle des Singes , peints d'après nature.
Eur 25,000 / USD 28,800
The price shown on each item does not include V.A.T (Value Added Tax). As a result of the recent EU legislation we are required to charge our EU customers the percentage of V.A.T. charged by the customer's country of residence, unless they possess a V.A.T. registration number. Postage Additional.
Paris, chez l'Auteur/ H.J. Jansen, 1797. Large folio (496 x 326 mm). With 61 engraved plates printed in colour and 2 plain engraved anatomical plates. Contemporary red morocco, richly gilt decorated spine with black gilt lettered label, sides with Greek-key outer border enclosing 2 inner roll tool borders, gilt edges.
the most spendid work on monkeys ever published
First edition, first issue, in a beautiful red morocco binding of the most spendid work on monkeys ever published. 'D'une execution magnifique...' (Brunet). Jean Baptiste Audebert (1750-1800) was a distinguised naturalist and artist and the present publication is his first orginal work printed for his own account. Audebert was commissioned by Gigot d'Orex, a rich amateur collector, to paint some of his natural history objects. He was sent by him to England and Holland and Audebert became a passionate naturalist and painter. In the first half of the 19th century France produced a number of magnificent colour plate books many in colour-printing. Audebert invented his own process, by using one single plate and several oil-colours. "This may go some way towards explaining why French zoological publications of the nineteenth century are illustrated with such close attention to detail and why they are so exquisitely coloured. The tradition embodied in the brilliant dynasty of miniaturists, whose work was controlled by scientists, gave zoological art in France an overall uniformity and distinction that was not equaled elsewhere. The illustrations in such books as the 'Histoire Naturelle des Singes et des Makis (1799-1800) by J.-B. Audebert and 'Les Pigeons' (1811-43) by C.-J. Temminck and F. Prévost had few rivals outside France, in the early years of the nineteenth century. No expense was spared in obtaining special effects including colour printing. A coloured engraving of an animal adorning a high -class French book was a work of art, a jewel set down on the page?" (S.P. Dance, Art of natural History p. 91). An unusual copy as it has also bound in the title of the later issue 'Histoire Naturelle des Singes et des Makis' Paris, chez Desray, An Huitième (1778-79). The lists of subscribers lists only 63 subscribers.

Nissen ZBI, 156; Wood p. 206; Brunet I, 550.