---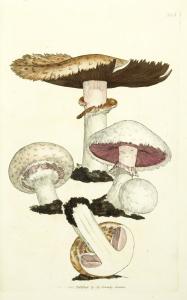 Coloured figures of English Fungi or Mushrooms.
Eur 12,000 / USD 12,600
The price shown on each item does not include V.A.T (Value Added Tax). As a result of the recent EU legislation we are required to charge our EU customers the percentage of V.A.T. charged by the customer's country of residence, unless they possess a V.A.T. registration number. Postage Additional.
London, printed by J. Davis and sold by the Author, 1797-1803, (1815). 3 volumes, bound in 2. Folio(320 x 200mm). With 440 hand-coloured engraved plates on 436 leaves. Contemporary binding with new richly gilt ornamented and lettered spines and old marbled boards.
The most attractive illustrated English work on mycology
The most attractive illustrated English work on mycology ever published, and a famous classic in its field. It was Sowerby himself who did the drawing and engraving of the plates, which are all beautifully handcoloured. James Sowerby sometimes printed the plate in a colour other than black. Our copy includes the rare supplement which is often lacking. "James Sowerby dedicated his 'Coloured figures of English fungi' to Sir Joseph Banks and J.E. Smith jointly. 'To the first of these gentleman', wrote Sowerby 'I have great obligations for granting me access to the first library in the world, as well as most ready assistance in any enquiry whatever relating to natural history'" (Henry, British Botanical and Horticultural Lit. II, p. 263).

Provenance: Armorial engraved bookplate with crown and monogram on inside cover.

Nissen BBI, 1874; Stafleu & Cowan 12.490.