---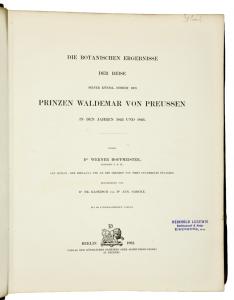 Die botanischen Ergebnisse der Reise seiner königl. Hoheit des Prinzen Waldemar von Preussen in den Jahren 1845 und 1846. Durch Dr. Werner Hoffmeister, Leibarzt S.K.H. auf Ceylon, dem Himalaya und an den Grenzen von Tibet gesammelte Pflanzen.
Eur 4,000 / USD 4,200
The price shown on each item does not include V.A.T (Value Added Tax). As a result of the recent EU legislation we are required to charge our EU customers the percentage of V.A.T. charged by the customer's country of residence, unless they possess a V.A.T. registration number. Postage Additional.
Berlin, Verlag der Königlichen Geheimen Ober-Hofbuchdruckerei (R. Decker), 1862. Folio (338 x 265mm). pp. (8), 164 with 100 lithographed plates. Later half calf, spine in 6 compartments with gilt ornaments and lettering.
It included 456 species, of which 108 were new to science, and 270 genera of plants
A very rare and beautifully produced work, commissioned by Royal patronage and printed in a limited edition. The text of the present work was written by Johann Friedrich Klotzsch and August Garcke and the plants were collected by Werner Hoffmeister. Werner Hoffmeister, a medical doctor was part of the Prince Waldemar of Prussia (1817-1849) expedition to India. Prince Waldemar had been in close contact with Alexander von Humboldt who characterised him as follows: "A deep admiration for the beauty of nature, an inner longing for achieving something Great and to explore distant lands might have prompted the young Prince to travel to East-India". During the expedition Werner Hoffmeister, only 26 years of age, was killed in a battle. The expedition returned with a comprehensive herbarium of plants, meticulously pressed and annotated by Hoffmeister. It included 456 species, of which 108 were new to science, and 270 genera of plants. The botanist J. F. Klotzsch and August Garcke were engaged to work and describe the material collected in India. 16 years after Prince Waldemar returned from India, the Prince had died 3 years after his return, the book was published. Prince Adalbert of Prussia, the brother of Waldemar, commissioned the work to be published. The fine plates are by C.F. Schmidt.

Provenance: Stamp of Reinhold Ludewig on title.

Stafleu & Cowan 3746; Nissen BBI, 1070.