---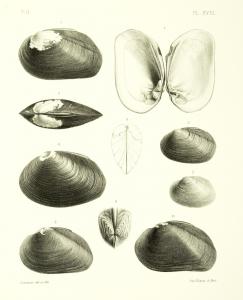 Malacologie de l'Algérie, ou histoire naturelle des animaux Mollusques terrestres et fluviatiles, recueillis jusqu'à ce jour dans nos possessions du Nord de l'Afrique.
Eur 7,500 / USD 9,000
The price shown does not include 9% V.A.T. As a result of the EU legislation we are required to charge our EU customers 9% V.A.T., unless they possess a V.A.T. registration number.
Paris, Challamel ainé, (1863-) 1864. 2 volumes. Folio (362 x 270mm). pp. xii, 294; 380 with 58 (10 fully or partly hand-coloured) lithographed plates, 5 (4 hand-coloured) maps. Contemporary red half morocco, spines with green gilt lettered labels, red marbled boards.
Bourguignat's magnum opus
A fine complete set of this beautifully produced work and Bourguignat's magnum opus. Bourguignat is considered the 'bête noir' of French conchology. His principal interests were non-marine shells. 'Bourguignat maintained that species should be determined on arbitrarily chosen characters ... By exploiting it energetically Bourguignat was able to describe nearly a thousand so-called new species from European and African localities and in so doing alienated himself and his movement from the more conscientious students of European and African molluscs' (Dance, A History of Shell collecting p. 164). "Unfortunately his new 'formes' were presented to the world as if they were new species (and he usually referred to them as such): they were described fully and named binominally. Consequently they are nomenclaturally valid and cannot be dismissed out of hand no matter how questionable their validity in other respects. This means that a correct knowledge of the dates of issue of those publications in which they first appeared is still important. It is principally on this account that the following information is presented, for it concerns the dates of issue and mode of publication of a work in which Bourguignat introduced so many of his 'abstractions', the 'Malacologie de l'Algérie'" (Dance, J.R. Bourguignat's Malacologie de l'Algérie pp. 19-20). The excellent plates are by Arnoul and Levasseur. Printed wrapper of the first fascicule bound in at the first volume and printed wrapper of fascicule 4 bound in at the second volume. As all Bourguignat's publications it is rare as the edition was very small.

Nissen ZBI, 504; B.M.(Nat. Hist.)I, 214; also see S.P. Dance, 'J.R. Bourguignat's Malacologie de l'Algerie, 1863' (J. Soc. Biblphy nat. Hist 5, pp. 19-22).