---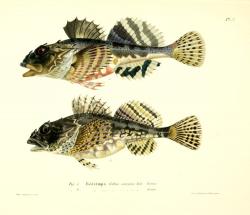 Skandinaviens Fiskar, målade efter lefvande exemplar och ritade på sten af Wilh. von Wright, med text af B. Fr. Fries och C.U. Ekström. & Bihang innefattande beskrifningar öfver de i Skandinavien bruklige Fiskeredskap med figurer.
Eur 7,500 / USD 7,900
The price shown on each item does not include V.A.T (Value Added Tax). As a result of the recent EU legislation we are required to charge our EU customers the percentage of V.A.T. charged by the customer's country of residence, unless they possess a V.A.T. registration number. Postage Additional.
Stockholm, P.A. Norstedt & Söner, 1836-(1857). 4to (295 x 245mm). pp. (2, Praemonenda), iv (Inledning), 222, with 60 lithographed plates of which 59 are splendidly hand-coloured; pp. 44, (2, index to plates), with 3 engraved plates. Contemporary green half morocco, spine in 6 compartments with gilt fish ornaments and lettering, top edges gilt.
the most splendid book on Scandinavian fishes
The rare first edition of the most splendid book on Scandinavian fishes. The fine plates heightened with gum Arabic are by Wilhelm von Wright (1810-1887), a Finnish-born natural history painter. He was the middle of 3 brothers who made their living as painters, illustrators or naturalists and moved to Stockholm to assist his eldest brother Magnus with his work 'Svenska Foglar'. The publication of the present work, his masterpiece, began in 1836 and was completed with the help of his younger brother Ferdinand in 1857. The text was started by Bengt Friedrich Fries and completed by Ekström and Sundevall. The work was issued in 10 parts including the supplement (present in our copy). No title page was published and the printed wrappers of the first part are bound in its place. The work is prone to serious foxing, which is not the case in the present copy. The text has some minor foxing and browning and 1 plain plate is foxed. All the other plates are in mint condition. A fine complete copy of this rare work.

Nissen, Schöne Fischbücher 56; Nissen ZBI, 1435.