---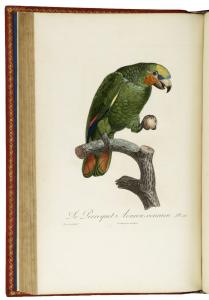 Histoire naturelle des Perroquets...
Eur 150,000 / USD 172,500
The price shown on each item does not include V.A.T (Value Added Tax). As a result of the recent EU legislation we are required to charge our EU customers the percentage of V.A.T. charged by the customer's country of residence, unless they possess a V.A.T. registration number. Postage Additional.
Paris, Levrault, frères, 1801-1805. 2 volumes. Folio (495 x 312mm). pp. (viii), 135, (1, index); (iv), 112, (1, index), with 145 etched plates printed in colours and finished by hand; a fine copy in contemporary red half morocco, green morocco labels, gilt fillets on sides, gilt edges, green silk page markers, binding signed at foot of spines: J.M. Jacobs, relieur à Anvers.
the most beautiful illustrations of parrots ever published and one of the finest bird-books of all time
First edition, folio issue (there was also a quarto issue and 12 copies printed in extra-large folio format) of the most beautiful illustrations of parrots ever published and one of the finest bird-books of all time. The outstanding plates were etched after the originals of Jacques Barraband, and printed in colour by Langlois, the great master of French colour printing at the beginning of the nineteenth century and the artist responsible for most of Redouté?s important publications.
?After he had made himself Emperor, it was part of Napoleon?s deliberate policy to initiate a series of magnificent publications that would vie with those undertaken to the orders of Louis XIV. These were sent as presents to crowned heads, men of science, and learned bodies, in evidence of the splendours of the Empire. In this manner many glorious books came into being, and it is in this light that we should see Redouté?s Les Liliacées and his two works on the flowers of La Malmaison. The works of Levaillant owe their sumptuous character to the same impetus. His Histoire naturelle des perroquets is, unwittingly, a part of the glories of Napoleonic France? (Fine Bird Books).
The names of three of the birds commemorate the artists involved in the production of the plates, Barraband, who painted them, Bouquet, who engraved the plates, and Langlois, who supervised the printing of them.
This copy has the title of volume one in its first state, with the date An IX (1801). Both Ronsil and Zimmer describe copies with the second state title, dated An XII (1804).

Anker 303; Fine Bird Books p 90; Nissen IVB 558; Ronsil 1780; Zimmer 392.