---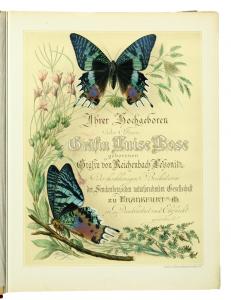 Lepidopteren von Madagascar. Neue und wenig bekannte Arten zumeist aus der Sammlung der Senckenberg'schen naturforschenden Gesellschaft zu Frankfurt am Main unter Berücksichtigung der gesammten Lepidopteren-Fauna Madagascars.
Eur 1,200 / USD 1,300
The price shown on each item does not include V.A.T (Value Added Tax). As a result of the recent EU legislation we are required to charge our EU customers the percentage of V.A.T. charged by the customer's country of residence, unless they possess a V.A.T. registration number. Postage Additional.
Frankfurt am Main, Selbstverlag der Gesellschaft /M. Diesterweg, 1884-1891. 2 volumes (bound in one). 4to (290 x 225mm). pp. 531, with 1 portrait, 1 coloured frontispiece and 14 coloured plates. Contemporary half calf, gilt lettered spine.
The first volume concerns: Rhopalocera, Heterocera: Sphinges et Bombyces, the second volume: Heterocera: Noctua. Geometrae. Microlepidoptera. The beautifully designed frontispiece is a dedication to Gräfin Luise Bose 'Beschützerin der Senckenbergischen naturforschenden Gesellschaft zu Frankfurt'.

Nissen ZBI, 3544.