---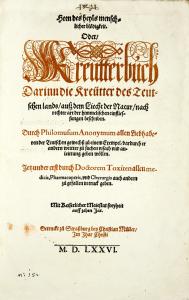 Horn des heyls menschlicher blödigkeit. Oder Kreütterbuch darinn die Kreütter des Teutschen lands ausz dem Liecht der Natur nach rechter art der himmelischen einfliessungen beschiben. Durch Philomusum Anonymum...
Eur 12,000 / USD 13,800
The price shown on each item does not include V.A.T (Value Added Tax). As a result of the recent EU legislation we are required to charge our EU customers the percentage of V.A.T. charged by the customer's country of residence, unless they possess a V.A.T. registration number. Postage Additional.
Strassburg, C. Müller, 1576. Folio (305 x 195mm). ff. (14, one blank), 188, (13), with 58 contemporary hand-coloured woodcuts. Contemporary limp vellum, frontcover with monogram G.W (tiny old repair to foot of spine).
The colouring of this copy is particularly fine using gouache and watercolours
First edition. The colouring of this copy is particularly fine using gouache and watercolours. Hunt categorizes this work as 'an example of that astrological medical thinking which practical scientists had battled against for hundreds of years'. Carrichter arranges plants according to the zodiacal classification. 'Much stress is laid on the hour at which herbs ought to be gathered, particular attention being paid ascribed to the state of the moon at the time' (Arber p. 258). It resembles in its approach Thurneisser zum Thurn's herbal, which it preceded by two years. Bartholomäus Carrichter (1507-157) was a physician to Maximilian II and Ferdinand I. The present work was published under his pseudonym Philomusus. Title-page with small old paper repair at the upper margin, a few contemporary annotations and some occasional light browning.

Hunt 123; Nissen BBI, 332.