---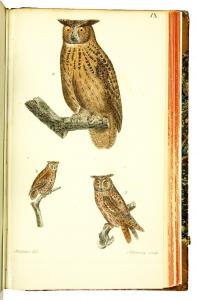 Handbuch der Naturgeschichte aller Vögel Deutschlands worin nach den sorgfältigsten Untersuchungen und den genauesten Beobachtungen mehr als 900 einheimische Vögel-Gattungen zur Begründung einer ganz neuen Ansicht und Behandlung ihrer Naturgeschichte vollständig beschrieben sind.
Eur 950 / USD 1,100
The price shown does not include 9% V.A.T. As a result of the EU legislation we are required to charge our EU customers 9% V.A.T., unless they possess a V.A.T. registration number.
Ilmenau, Voigt, 1831. 8vo (205 x 125mm). pp. xxiv, 1085, (3), with 47 hand-coloured engraved plates. Contemporary half calf, spine with gilt lettered red label (hinges skilfully repaired).
a classic treatise on mid-European avifauna
The rare first edition of "a classic treatise on mid-European avifauna" (Wood 255). "In Folge eingehendster Specialkenntniss (erfuhr) die Grundlage des Systems, der Begriff der Art, eine Erweiterung insofern B. die Art schon als eine höhere systematische Gruppe fasste und die übereinstimmenden Individuen als Subspecies vereinigte." (Carus 710). "In this handbook, Brehm's chief work, the author gives his opinion on the system of Linnaeus, which is rejected as being too unnatural. The birds are divided into 23 orders which are again subdivided into genera, 'species', and 'subspecies' (Gattungen), by which the author understands birds resembling each other and mating with each other; whereas birds belonging to the same 'species' certainly bear a great resemblance to each other in most respects, but do not regularly mate with each other. Thus he went a step further than any other contemporary ornithologist in the division of birds into species" (Anker 66). The fine plates are after drawings by Bädeker and Th. Götz and engraved by W. Müller.

Nissen IVB, 140; Anker 105; Zimmer I, 90.