---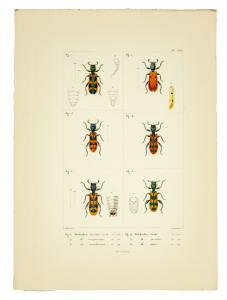 Essai monographique sur les Clérites, insectes Coléoptères.
Eur 1,000 / USD 1,100
The price shown on each item does not include V.A.T (Value Added Tax). As a result of the recent EU legislation we are required to charge our EU customers the percentage of V.A.T. charged by the customer's country of residence, unless they possess a V.A.T. registration number. Postage Additional.
Gênes, Imprimerie des Frères Ponthenier, 1844. Royal-8vo (235 x 155mm). Atlas only with 47 handcoloured engraved plates. Loose.
The complete atlas without the 2 text volumes of one of the rarest works on coleoptera. The detailed and finely handcoloured plates (all after drawings by the author) depict the treated beetles together with many exact anatomical magnifications of their mouthparts, legs etc. It has been said that Spinola himself burned all but a dozen copies of his book apparently because the book was so expensive that he could not sell it. "L'édition sauf une dizaine d'exemplaires, a été detruite par l'auteur à qui on reprochait de vendre son livre trop cher" (Brunet VI, 335).
Maximilian Spinola (1780-1857) made important contributions to entomology describing many taxa. Spinola came from a wealthy noble family in Genoa and much of his wealth derived from land held in Spain and South America from where he received many insects. His insect collection is preserved in the 'Museo Regionnale di Scienze Naturali' in Turin and in the 'Museo storia naturale' in Pisa.

Horn & Schenkling 20948; Nissen ZBI, 3941.