---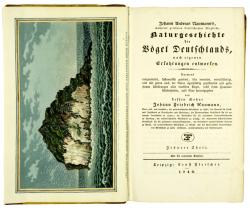 Johann Andreas Naumann's... Naturgeschichte der Vögel Deutschlands, nach eigenen Erfahrungen entworfen... herausgegeben von dessen Sohne Johann Friedrich Naumann.
Eur 27,500 / USD 28,900
The price shown on each item does not include V.A.T (Value Added Tax). As a result of the recent EU legislation we are required to charge our EU customers the percentage of V.A.T. charged by the customer's country of residence, unless they possess a V.A.T. registration number. Postage Additional.
Leipzig, E. Fleischer, 1820-1844 (volumes 1-12); Stuttgart, Hoffmann, (1860), (volume 13). 13 volumes. Royal-8vo (228 x 141mm). With 3 engraved portraits (J.A. Naumann, C.L. Nitzsch and J.F. Naumann), 9 (5 hand-coloured) engraved frontispieces, 1 engraved plate and 391 fine hand-coloured engraved plates by the author. Contemporary half calf, gilt ornamented spines with red gilt lettered label.
The first comprehensive account of the avi-fauna of Germany
The first comprehensive account of the avi-fauna of Germany. This edition is quite distinctive from Johann Andreas Naumann's work "Naturgeschichte der Land- und Wasser- Vögel des nördlichen Deutschlands und angränzender Länder', of 1795-1817, although this earlier book laid the foundation for the later one.
To honour his father, Johann Friederich Naumann put the name of Johann Andreas Naumann at the beginning of the title. Johann Friedrich Naumann (1780 ? 1857) was a German ornithologist and engraver/ artist and is regarded as the founder of scientific ornithology in Germany.
"In fact the son had begun on a much wider scale and had incorporated only fragments of the original. Brehm, who was hard to please, called it 'splendid' in his long review of the second and third volumes of his 'Ornis' in 1824: 'The younger Mr. Naumann is, like his father, a born naturalist, for he possesses the eagerness that fears no obstacles and does not cool during difficult and protracted investigations, the gift of observation that catches what thousands have overlooked... and finally the skill that understands how to classify and expound what has been discovered'".
'Noch heute ist sie, hist. betrachtet, ein Gegenstand weltweiter Bewunderung. Mit dem Titel des Werkes verbindet sich zugleich ein rührendes Zeugnis von Verehrung für den väterlichen Lehrmeister; des Sohn nannte es 'Johann Andreas N.s Naturgesch...' und zeigte sich damit von Anfang an bereit, zugunsten des Vaters bescheiden hinter seinem Werk zurückzutreten (Gebhardt p. 256). "Johann Friedrich Naumann gilt als der erste bedeutende Ornithologe Deutschlands. Geboren 1780 in Ziebigk bei Köthen, Sachsen-Anhalt, gestorben 1857 ebendort, legte er im Laufe seines Lebens eine Sammlung von mehr als 700 einheimischen Vögeln in ca. 350 Arten an, die er in speziell hergestellten Glasvitrinen ausstellte. Die Sammlung Naumanns wurde 1821 von Herzog Ferdinand Friedrich von Anhalt Köthen für 2000 Reichstaler in Gold gekauft und in den Ausstellungsräumen im "Neuen Schloss" von Naumann um viele weitere exotische Vogelarten erweitert. Neben seinen wissenschaftlichen Leistungen beeindrucken heute noch immer die natürliche Schönheit seiner Vogelbilder und die erstaunliche Kreativität seiner Sprache. Fünfundzwanzig Jahre hat Naumann an seiner zwölfbändigen "Naturgeschichte der Vögel Deutschlands" gearbeitet. Das Werk, dessen letzter Band 1844 publiziert wurde, war auf dem Stand der damaligen Wissenschaft, alle 380 Illustrationen hat Naumann selbst gezeichnet und in Kupfer gestochen" (Arnulf Conradi). As the work was published over a very long period complete copies are of utmost rarity.
The plates drawn and engraved by the author are beautifully handcoloured. The last 13th volume 'Nachträge, Zusätze und Verbesserungen' which was published many years later has a contemporary half calf binding with a black gilt lettered label.

Nissen IVB, 666; Anker 355; Schlenker 248.2.