---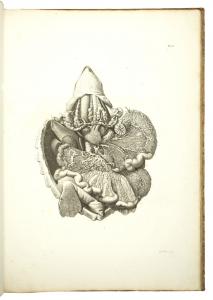 Sopra il sistema linfatico dei Rettili Ricerche Zootomiche.
Eur 5,000 / USD 5,300
The price shown on each item does not include V.A.T (Value Added Tax). As a result of the recent EU legislation we are required to charge our EU customers the percentage of V.A.T. charged by the customer's country of residence, unless they possess a V.A.T. registration number. Postage Additional.
Pavia, Bizzoni, 1833. Large-folio (650 x 485mm). pp. xliii, with 6 engraved plates. Contemporary brown boards with cloth spine (Small piece of one corner of frontcover torn off).
The largest and one of the rarest works on reptiles
The largest and one of the rarest works on reptiles. Bartolomeo Panizza (1785-1867) was professor of anatomy in Pavia. "The great Italian anatomist, Bartolomeo Panizza, who discovered the cortical center for vision, also wrote the fundamental study of the reptilian lymphatic system... As generally cited, it consists of only 43 pages of text and six engraved plates, from which one can scarcely imagine its overal size. It is one of the largest folios (46 by 61,5 cm) ever issued on a herpetological topic. The book is the foundation for the study of the lymphatic system in vertebrates, using a variety of amphibians (Rana, Salamandra) and reptiles (Alligator, Caiman, Caretta, Elaphe, Lacerta, Liasis, Natrix). He was also the first to describe the lymph hearts of reptiles" (Adler, Contributions to history of Herpetology, III, pp. 96-7. The excellent engraved plates are by Cesare Ferreri. A well preserved uncut copy.

Provenance: Handwritten dedication on title 'All illustre Giuseppe Gabriel Balsamo-Crivelli la famiglia Panizza', Balsamo-Crivelli was a professor of mineralogy and zoology at the University of Pavia.

Nissen ZBI, 3083.