---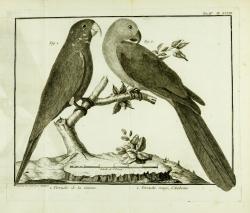 Ornithologia, sive synopsis methodica sistens avium divisionem in ordines, sectiones ... Ornithologie ou méthode contenant la division des Oiseaux ...
Eur 6,800 / USD 6,800
The price shown on each item does not include V.A.T (Value Added Tax). As a result of the recent EU legislation we are required to charge our EU customers the percentage of V.A.T. charged by the customer's country of residence, unless they possess a V.A.T. registration number. Postage Additional.
Paris, C.J.B. Bauche, 1760. 6 volumes (including the supplement). 4to (284 x 213mm). With 6 engraved titles and 261 folded engraved plates. Contemporary mottled calf, richly gilt ornamented spines, with 2 red gilt lettered labels (3 vols. old spines laid down, the others rebacked matching the other vols.).
One of the very few Large-Paper copies of this splendid work
One of the very few Large-Paper copies of this splendid work. Ordinary copies measure approx. 260 x 195mm. All plates are by Martinet; most probably the finest he ever made. The birds are depicted in their natural surroundings, with charming backgrounds. This scientifically important work was written by one of the greatest connoisseurs of birds of the time. The work deals with 1336 species in addition to 150 "varieties" distributed over 115 genera, which are again grouped in 26 orders. Brisson did not use the binominal system and his systematical classification of the birds differed from that of Linnaeus, surpassing it and being less artificial. The text is written in Latin and French. One plate with marginal paper repair not affecting the illustration. An attractive uniformly bound set.

Anker 69; Nissen IVB, 145.