---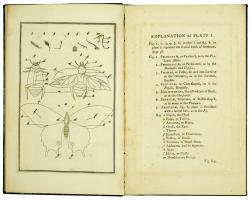 Fundamenta Entomologiae: or, an introduction to the knowledge of insects being a translation of the Fundamenta Entomologiae of Linnaeus, farther illustrated with Copper Plates and Additions.
Eur 750 / USD 950
The price shown does not include 9% V.A.T. As a result of the EU legislation we are required to charge our EU customers 9% V.A.T., unless they possess a V.A.T. registration number.
London, for the Author, 1772. 8vo (210 x 135mm). pp. viii, 87, (2), with 2 engraved plates. Later green half cloth, gilt lettering on spine, marbled sides.
William Curtis (1746-1799) is chiefly remembered as the author of two famous botanical books 'Flora Londinensis'' and the 'Botanical Magazine'. Curtis, however, was more than just the author on these 2 works. He studied most branches of natural history. His first work was an entomological treatise 'Instructions for collecting and preserving insects' (1771) which was warmly praised by Sir Joseph Banks. It was followed in 1772 by his 'Fundamenta Entomologiae'.

Horn-Schenkling 4241.