---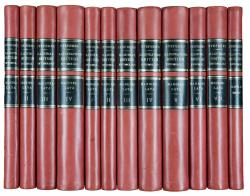 Illustrations of British Entomology; or, a synopsis of indigenous insects: containing their generic and specific distinctions; with an account of their metamorphoses, times of appearance, localities, food, and economy, as far as practicable.
Eur 2,200 / USD 2,400
The price shown on each item does not include V.A.T (Value Added Tax). As a result of the recent EU legislation we are required to charge our EU customers the percentage of V.A.T. charged by the customer's country of residence, unless they possess a V.A.T. registration number. Postage Additional.
Haustellata (&) Mandibulata. London, Baldwin and Cradock/ Henry G.Bohn, 1828-1846. 12 volumes (including supplement). Royal-8vo (243 x 150mm). With 95 fine handcoloured plates. Recent red half calf, spine with 2 black gilt lettered labels.
beautifully coloured by hand, all after drawings by C.M. Curtis and J.O. Westwood
This extensive work consists of 7 volumes comprising the Mandibulata, 4 volumes comprising the Haustellata, and 1 supplement-volume. The plates are beautifully coloured by hand, all after drawings by C.M. Curtis and J.O. Westwood. James Francis Stephens (1792-1852) 'worked for many years as a clerk in the Admiralty, London. In 1818 he was seconded to the British Museum, and on completion of his work returned to the Admiralty. He made a large insect collection, which contained many type specimens. After his retirement this collection was purchased by the British Museum. Stephens published many important works...' (Harvey, Gilbert & Martin, A Catalogue of manuscripts in the Entomological Library... 309). Plate xxxix is bound in twice and is counted as one plate. A nice copy.

Provenance: Armorial bookplate of Haster Hollist and bookplate of J. d'Aguilar

Nissen ZBI, 3994; Horn-Schenkling 21375.