---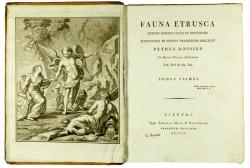 Fauna Etrusca sistens Insecta quae in Provinciis Florentina et Pisana praesertim collegit.
Eur 3,500 / USD 3,900
The price shown on each item does not include V.A.T (Value Added Tax). As a result of the recent EU legislation we are required to charge our EU customers the percentage of V.A.T. charged by the customer's country of residence, unless they possess a V.A.T. registration number. Postage Additional.
Liburni, T. Masi, 1790. 2 volumes. 4to (280 x 210mm). pp. xxii, (2), 272; 348, with 2 engraved frontispieces, 1 handcoloured engraved dedication-plate and 10 handcoloured engraved plates. Contemporary half calf, spines with green and red gilt lettered labels (slightly rubbed).
the most beautiful publication on the insects of Etruria
An attractive and rare Italian entomological work and the most beautiful publication on the insects of Etruria, printed on light blue paper. Pietro Rossi (1738-1804) was professor at the university of Pisa and the world's first professor of entomology. His publications, particularly the 'Fauna Etrusca' and the 'Mantissa insectorum', are considered as pioneer achievements of entomology. The 'Fauna Etrusca' has a fine dedication plate showing a caterpillar amidst foliage, flowers, and various insects. It is dedicated to Petrus Leopoldus 'Hungariae & Bohemiae Rex'.

Hagen II, 93; Horn & Schenkling 18500; Nissen ZBI, 3482.