---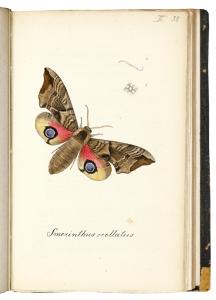 Insekten der Schweiz, die vorzüglichsten Gattungen je durch eine Art bildlich dargestellt von J. D. Labram. Nach Anleitung und mit Text von Dr. Ludwig Imhoff.
Eur 3,500 / USD 4,000
The price shown on each item does not include V.A.T (Value Added Tax). As a result of the recent EU legislation we are required to charge our EU customers the percentage of V.A.T. charged by the customer's country of residence, unless they possess a V.A.T. registration number. Postage Additional.
Basel, bei den Verfassern und in Commission bei C. F. Spittler, 1836-42. 6 volumes bound in 3. 8vo (170 x 107mm). With 436 (of 454) handcoloured lithographed plates. Contemporary black boards.
one of the greatest entomological rarities
The work was published in parts and is one of the greatest entomological rarities. Horn & Schenkling call for 454. Our copy lacks 18 plates, of which 1 in the first volume, 4 in the second, and 13 in the 4th. There is no printed title to vols. 4 and 5, the indices of these volumes are in typewriting. No index and title was published for the final part as this was never finished. A few explanatory leaves in old typewriting.
The plates are lithographed and finely handcoloured, very much in the style of Jacob Sturm, with the same attention to minute details. Jonas David Labram (1785-1852) was a Swiss botanical artist at Basel. Labram is better known for the illustrations he made for Hegetschweiler's 'Sammlung von Schweizer Pflanzen' & 'Sammlung von Zierpfanzen'. Copies however of his insects of Switzerland, which remained unfinished, are so rare that we have sold only one other copy during the last decades. In the course of years Donald Mac Gillavry, well-known Dutch collector of fine entomological books, tried to complete this copy.

Provenance: Bookplate of Donald Mac Gillavry


Nissen ZBI, 2336; Horn & Schenkling 12581.