---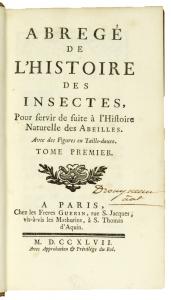 Abregé de l'Histoire des Insectes. Pour servir de suite à l'Histoire Naturelle des Abeilles.
Eur 850 / USD 900
The price shown on each item does not include V.A.T (Value Added Tax). As a result of the recent EU legislation we are required to charge our EU customers the percentage of V.A.T. charged by the customer's country of residence, unless they possess a V.A.T. registration number. Postage Additional.
Paris, Freres Guerin, 1747-1751. Small-8vo (170 x 100mm). 4 volumes. pp. xx, 328; (4), 298, (4); (8), 424; (8), 446, with 53 fine engraved folded plates. Contemporary calf, richly gilt decorated spines with 2 gilt lettered labels.
An anonymously published work. "Le Dr. Gilles Augustin Bazin (1681-1754) publia quelques notes mais surtout édita, anonymement, deux ouvrages où est reprise et résumée, en forme d'entretiens et de lettres, l'oeuvre de Réaumur: 'Histoire Naturelle des Abeilles'... et 'Abrégé de l'Histoire des insectes pour servir de suite à l'Histoire Naturelles des Abeilles'" (J. d'Aguilar pp. 154-3)". Very slight damage to the binding of the second volume. A fine copy.

Provenance: Bookplates of Reinhold Charpentier and J. d'Aguilar.

Horn-Schenkling 961.