---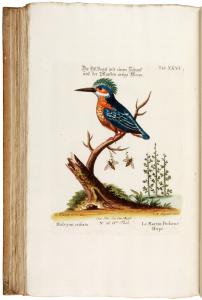 Verzameling van uitlandsche en zeldzaame vogelen, benevens eenige vreemde dieren en plantgewassen: in 't Engelsch naauwkeurig beschreeven en naar 't leven met kleuren afgebeeld, door G. Edwards en M. Catesby. Vervolgens, ten opzicht van de plaaten merkelyk verbeterd, in 't Hoogduitsch uitgegeven. Thans in 't Nederduitsch vertaald en met aanhaalingen van andere autheuren verrykt, door M. Houttuyn.
Eur 42,000 / USD 48,300
The price shown on each item does not include V.A.T (Value Added Tax). As a result of the recent EU legislation we are required to charge our EU customers the percentage of V.A.T. charged by the customer's country of residence, unless they possess a V.A.T. registration number. Postage Additional.
Amsterdam, J.C. Sepp, 1772-1781. 9 parts (bound in 4 volumes). Folio (443 x 270mm). With 473 handcoloured engraved plates (of which 425 depict birds). Contemporary half vellum.
An unusual clean and fine set of this rare ornithological classic
A splendid work, beautifully coloured. In 1749-1776, the works of Edwards 'A natural history of uncommon birds' and 'Gleanings of natural history' and Catesby 'Natural history of Carolina, Florida, and the Bahama Islands' were translated into German and combined into one work under the title 'Sammlung verschiedener ausländischer und seltener Vögel'. Catesby's work is considered 'the most famous colorplate book of American plant and animal life' (Hunt).
The plates of Edwards and Catesby were re-engraved by Seligmann, further embellished by the addition of figures of plants not present in the originals. The present work is a translation of the German edition into Dutch by Houttuyn with Seligmann's plates. The Dutch edition was published by the famous Dutch publisher Sepp, a company which exercised the utmost care in producing colour-plate books of outstanding quality. The colouring of the Dutch edition seems to be more delicate than the other editions. An unusual clean and fine set of this rare ornithological classic, of which according to the list in volume I, only 90 copies were subscribed. The Dutch edition is the most complete edition having 473 plates. The German edition has 447 plates and the French edition 422 plates.

Fine Bird Books, pp. 73-74; Landwehr 180; Nissen IVB, 857 & ZBI, 845; Zimmer I, 200.