---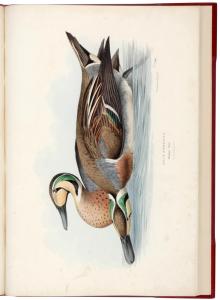 A fasciculus of the Birds of China.
Eur 1,000 / USD 1,100
The price shown on each item does not include V.A.T (Value Added Tax). As a result of the recent EU legislation we are required to charge our EU customers the percentage of V.A.T. charged by the customer's country of residence, unless they possess a V.A.T. registration number. Postage Additional.
(London, Taylor and Francis, 1871). Folio. pp. 8, with 12 handcoloured lithographed plates. New half red morocco, spine with gilt lettering.
Nissen IVB, 389; Zimmer I, 271: "A series of handcoloured plates, originally designed for another publication, with a short account of each species". The beautiful handcoloured illustrations are drawn and lithographed by W. Swainson. The present copy has the following handwritten dedication: "John Bolton Hodgson with his uncle's kind love. George Robert Gray".