---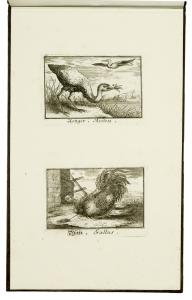 Unterschiedliche Arten von Vöglen nach dem Leben gezeichnet. Verlegts Jeremias Wolff Künsthändler in Augsburg.
Eur 3,900 / USD 4,100
The price shown on each item does not include V.A.T (Value Added Tax). As a result of the recent EU legislation we are required to charge our EU customers the percentage of V.A.T. charged by the customer's country of residence, unless they possess a V.A.T. registration number. Postage Additional.
Augsburg, J. Wolff, (about 1710). Oblong-8vo (280 x 75mm). 17 engravings on 9 leaves. Recent boards.
A rare suite of engravings of birds
A rare suite of engravings of birds. The first engraving is the title, a cartouche held by birds and snakes. Jeremias Wolff (1663-1724) was an Augsburg publisher and engraver. The engravings are party reversed copies of Albert Flamen's 'Diversae avium species', Paris, 1659. The engravings show among others: Indianischer Han (Gallus Indicus), Schnee Ganz (Anser Serus), Pfaw (Pavo), Phasan (Phasianus), Reyger (Ardea), and Schwan (Cygnus).

Schlenker. Bibliographie der Deutschen vogelkundlichen Literatur von 1480 bis 1850, 391.1.