---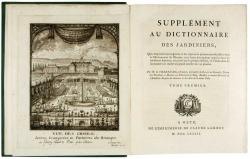 Dictionnaire des Jardiniers, contenant les méthodes les plus sûres et les plus modernes pour cultiver et améliorer les Jardin Potagers, à fruit, à fleurs et les Pépinieres...
Eur 1,950 / USD 2,000
The price shown on each item does not include V.A.T (Value Added Tax). As a result of the recent EU legislation we are required to charge our EU customers the percentage of V.A.T. charged by the customer's country of residence, unless they possess a V.A.T. registration number. Postage Additional.
Paris, Guillot/ Metz, Claude Lamort, 1785-1789. 10 volumes. 4to (252 x 205mm). With an engraved frontispiece and 34 engravings. Contemporary green boards, spines with gilt lines and 2 gilt lettered labels
first French edition of Miller's famous 'The Gardener's Dictionary'
A complete copy including the 2 supplements by M. de Chazelles which were published in Metz. A fine set of the first French edition of Miller's famous 'The Gardener's Dictionary'. The work was first published in 1731 and went through innumerable editions and virtually all editions are of taxonomic significance. "This celebrated dictionary by a writer known for his knowledge of botany, and for his skill in gardening, proved a success from the start. Many editions appeared in this country, and versions were published in Holland, France, and Germany... They also reveal the vast number of new plants that were introduced in our gardens during that period". (Henrey II, p. 215). Philip Miller, called by Linnaeus 'the greatest gardener of his time', was director of the Chelsea Gardens. The Chelsea garden was for many decades the great centre of plant introduction and distribution in the British Isles, especially during Miller's long reign (1722-1770).

Stafleu & Cowan 6051 & 6061.