---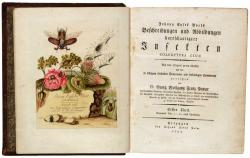 Beschreibungen und Abbildungen hartschaaligter Insecten Coleoptera Linn. Aus dem Original getreu uebersetzt mit der in selbigem fehlenden Synonymie und bestaendigen Commentarversehen von D. Georg Wolfgang Franz Panzer.
Eur 6,500 / USD 6,800
The price shown on each item does not include V.A.T (Value Added Tax). As a result of the recent EU legislation we are required to charge our EU customers the percentage of V.A.T. charged by the customer's country of residence, unless they possess a V.A.T. registration number. Postage Additional.
Erlangen, J.J. Palm, 1793-1802. 5 volumes, bound in one. 4to (257 x 207mm). pp. xii, 103; (8), 134;(10), 68; (16), 120; (8), 114, (4) with 4 charming handcoloured engraved frontispieces and 108 handcoloured engraved plates. Contemporary full calf, richly gilt ornamented spine in 5 compartments, sides with gilt border fillet and blind centre-piece within a richly gilt ornamented border (back cover hinges a bit cracked but very firm).
The first major iconography on Coleoptera
The final and most complete German edition of the Dutch original. The first German edition (1785-1791) did not comprise volume V, entitled: 'Beyträge zur Geschichte der Insecten' (containing 12 plates). The present German edition has 4 beautiful engraved handcoloured frontispieces which are not found in the Dutch edition. As always some minor foxing to the text as this was printed on different paper than the plates.
The first major iconography on Coleoptera and one of the finest entomological works published in the German language. Johannes Eusebius Voet (1706-1778) was a physician at Dordrecht. He possessed a large cabinet of insects and shells and was the son of Carl Voet, who was court-painter to the Earl of Portland. The Dutch Entomological Society has a splendid album on insects and their metamorphosis by Carl Voet, following closely Goedaert. According to Landwehr, Johannes Eusebius Voet was as well the author as the artist of the 'Catalogus Systematicus Coleopterorum'. Most of the splendid plates are engraved by C.F.C. Kleeman, Roesel's son-in-law, in the same elaborate manner and preciseness of detail that we know from his other works.

Nissen ZBI, 4259; Horn & Schenkling 16730.