---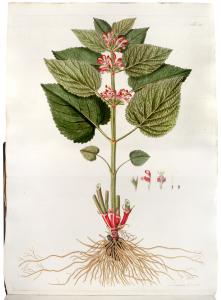 Descriptiones et icones plantarum rariorum Hungariae.
Eur 68,000 / USD 71,400
The price shown on each item does not include V.A.T (Value Added Tax). As a result of the recent EU legislation we are required to charge our EU customers the percentage of V.A.T. charged by the customer's country of residence, unless they possess a V.A.T. registration number. Postage Additional.
Vienna, Matthias Andreas Schmidt, (1799-) 1802-1812. 3 volumes. Folio (488 x 345mm). pp. (4), xxxii, 1-104; (2), xxxii, 105-221, (1); (2), 223-310, (2, index), with large sepia aquatint view at beginning of preface to vol I and 280 beautifully handcoloured engraved plates of which 16 folding. Contemporary marbled green boards with 2 red gilt lettered labels.
monumental flora of Hungary
A fine, uncut and unusually fresh copy of the first (and only) edition of this monumental flora of Hungary and adjacent territories, including Croatia, with splendid plates in the Viennese 'Jacquin' style. The text is by Paul Kitaibel (1757-1817), professor of botany at the University of Pest. 'He spent much of his career roaming Hungary and collecting botanical, zoological, and mineralogical specimens as well as folklore. His collections of botanical and mineralogical specimens formed the basis for the natural history collection in the Hungarian National Museum' (Johnston). The work was financed by Count Franz Waldstein (1759-1823), an Austrian military leader who fought against the Turks and North African states as a Maltese knight and in the Austrian-Turkish war and the Prussian campaign. From 1789 he devoted himself to botany, travelling with Kitaibel through Hungary collecting plants, interspersed with military service. His herbarium is in Prague. The aquatint view is signed by Hirscher. The plates are engraved by Karl Schutz after drawings by his son Johann. The work was intended to be completed in four volumes but a note on page 310 states that publication was suspended because of 'multiplicia impedimenta, quae e gravibus temporibus in quibus vivimus inseparatibilia sunt' (the many impediments which are inseparable from the troubled times we live in).
Junk Rara, p. 134: "Die Ausstattung des Werkes ist eine prächtige, die Tafeln (von denen 16 in Doppelformat) sind auf das feinste mit der Hand colorirt. Das Buch hat für die Flora von ganz Mitteleuropa Wichtigkeit. Die 'Descriptiones et Icones' sind ausserordentlich selten, sie gehören zu den grossen Raritäten der botanischen Literatur; ganz besonders gilt dies von dem letzten in den Napoleonischen Kriegswirren erschienenen Band. Das Buch ist jedenfalls, wie alle die andern gleichzeitigen Iconographien in ganz geringer Auflage, nur für Liebhaber, erschienen und war wohl nicht im Handel".

Provenance: Armorial bookplate of 'The Horticultural Society of New York, bequest of Kenneth K. Mackenzie, October 1934' on inside frontcovers and a library stamp 'duplicata de la bibliothèque du conservatoire botanique de Genève vendu en 1922' on two titles.

Dunthorne 325; Great flower books p. 80; Johnston 678; Nissen BBI 2096; Stafleu and Cowan 16560.