---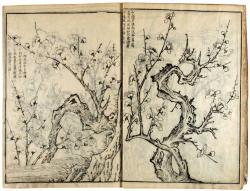 [Collection of Eight Ming Picture Albums] Toshi Gogon, Baichiku Rangiku, Mokuhon Kacho, Sohon Kashi, Kokon Gafu, Meiko Senfu, Toshi Rokugon, Toshi Shichigon.
Eur 20,000 / USD 20,000
The price shown on each item does not include V.A.T (Value Added Tax). As a result of the recent EU legislation we are required to charge our EU customers the percentage of V.A.T. charged by the customer's country of residence, unless they possess a V.A.T. registration number. Postage Additional.
Kyoto, Nakagawa Mohee, 1710. 8 volumes. 8vo (282 x 195mm). With 421 full-page woodblock illustrations of which 213 are related to natural history. Contemporary original stitched bindings, with calligraphic titleslips (preserved in a recent blue folding box).
The most beautifully illustrated Chinese book of the Ming Dynasty (1368-1644). Eight unrelated volumes have been published by different authors and artists within a period of a few years (1620-1628). The order of the publication of the volumes is subject to controversy. Each volume has a different title. The eight works are known as 'Hasshu Gafu', but this collective title does not appear anywhere in the volumes.

The single Chinese edition was published in the early 1620's. The books were imported into Japan and issued, first in 1672. Our copy is the second Japanese edition of 1710, using the same blocks. The book is a great rarity. The Chinese edition, absent in all Western collections is unobtainable. Three complete copies of the first Japanese edition have been located. The second Japanese edition has been described by Mitchell, New York City Public Library, p. 289 and Kraft, Berlin Public Library, no. 224. Several libraries preserve one, two, three or four volumes out of eight. The Paris, Bibliothèque Nationale has 3 volumes of the second Japanese edition.
According to Japanese specialists, the publication of 'Hasshu Gafu' had a considerable impact on Japanese painters of the 17th and 18th century and is considered as the first great pictorial source on Chinese painting for Japanese artists. The work is composed as follows:
1. Toshi Gogon. Illustration of five verse poems of the T'ang Dynasty, (618-906). 50 single page illustrations.
2. Baichiku Rangiku, dated Wan-li 48 (=1620). Illustrations of Plums, Bamboo, Orchids and Chrisanthemums. 98 single page illustrations.
3. Mokuhon Kacho, dated T'ien-ch'i 1 (=1621). Illustrations of flowers and birds. 44 single page illustrations.
4. Sohon Kashi, dated T'ien-ch'i 1 (=1621). Illustrations of flowering plants. 45 single page illustrations.
5. Kokon Gafu. Ancient and modern paintings. 46 single- page illustrations
6. Meiko Senfu. Fan paintings. 47 double-page illustrations.
7. Toshi Rokugon. Illustration book of Chinese poems in the 'rokugon style', 40 single page illustrations.
8. Toshi Shichigon. Illustration book of Chinese poems in the 'shichigon style', highly estimated during the T'ang dynasty (618-906). 50 single page illustrations. This volume has a slightly different decoration pattern of the covers than the others.

The third volume 'Mokuhon Kacho' has some considerable marginal worming at the upper margin of 7 leaves. A well preserved set, a few leaves with some occasional insignificant wormholes.

Mitchell p. 289.