---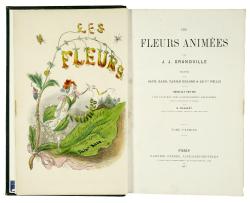 Les Fleurs Animées. Texte par Alph. Karr, Taxile Delord & Le Cte Foelix. Nouvelle édition.
Eur 850 / USD 900
The price shown on each item does not include V.A.T (Value Added Tax). As a result of the recent EU legislation we are required to charge our EU customers the percentage of V.A.T. charged by the customer's country of residence, unless they possess a V.A.T. registration number. Postage Additional.
Paris, Garnier Frères, 1867. 2 volumes. Royal 8vo (265 x 170mm). pp. (2), 339, (5); (2), 321, (5), with 2 handcoloured lithographed frontispieces, 50 handcoloured lithographed plates and 2 plain lithographed plates. Contemporary green half calf, richly gilt spines, gilt edges.
Of all his work, this is his most graceful fantasy
The first edition was published in 1847. "Of all his work, this is his most graceful fantasy: the fifty-two plates of court beauties in floral haute couture present a suite of fashionable tableaux redolent of the sentimental spirit of French Romanticism, at the end of the July Monarchy and in the predawn of the Second Empire. This briljant assembly of the Court of Flora has all the elements of Romantic ballet with its highly conventionalized poses, fanciful costumes, and magical settings. To these Grandville has playfully added attendant beetles, crickets, butterflies, moths, and caterpillars, those diminutive inhabitants of the garden, in variant agressive or sycophant roles" (Wick, P.A.. The Court of Flora, 1981).