---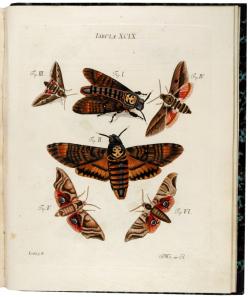 Icones Insectorvm circa Ratisbonam indigenorvm coloribvs natvram referentibvs expressae.
Eur 9,800 / USD 10,800
The price shown on each item does not include V.A.T (Value Added Tax). As a result of the recent EU legislation we are required to charge our EU customers the percentage of V.A.T. charged by the customer's country of residence, unless they possess a V.A.T. registration number. Postage Additional.
Natürlich ausgemahlte Abbildungen Regensburgischer Insecten. Regensburg, H.G. Zunkel/ Weiss, (1766-1779). 3 volumes. 4to (265 x 215mm). With an engraved portrait of the author, 280 beautifully handcoloured engraved plates and 2 engraved vignettes. 19th century black half calf, spines with gilt lettering, marbled sides.
The delicately handcoloured plates depict over 2000 insects
First edition. One of the most beautiful entomological works published during the Golden Period of South German natural history book production. Schaeffer was a clergyman-naturalist, a phenomenon so characteristic of the Enlightenment. He published a number of illustrated natural history works, mostly on insects, but also on birds and fungi of South Germany. The present work describes the insects of South Germany, especially the region around Regensburg. Schaeffer's exact descriptions and fidelity of illustration made this three volume work a mine of information for zoologists and brought it to the attention of scientists and royalty throughout Europe. The delicately handcoloured plates depict over 2000 insects. The plates are printed on both sides of the leaves. An early owner of the work has written additional information in a neat handwriting on the explanatory text leaves to the plates. Text both in Latin and German. A fine copy of this superbly produced work.

Nissen ZBI, 3629.