---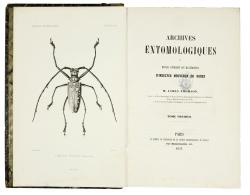 Archives Entomologiques ou recueil contenant des illustrations d'insectes nouveaux ou rares.
Eur 1,000 / USD 1,100
The price shown on each item does not include V.A.T (Value Added Tax). As a result of the recent EU legislation we are required to charge our EU customers the percentage of V.A.T. charged by the customer's country of residence, unless they possess a V.A.T. registration number. Postage Additional.
Paris, Societé Entomologique de France, 1856-1858. 2 volumes. Royal-8vo (262 x 172mm). pp. 514, (2), with engraved frontispiece and 21 engraved plates; pp. 469, (1), with engraved frontispiece and 14 engraved plates. Contemporary half calf, spines with 2 red gilt lettered labels.
The second volume describes insects of Gabon
The second volume describes insects of Gabon and has the following separate title: Voyage au Gabon. Histoire naturelle des insectes et des arachnides recueillis pendant un voyage fait au Gabon en 1856 et en 1857 par M. Henry C. Deyrolle sous les auspices de Mm. le Comte de Mniszech et James Thomson.... Arachnides par M. H. Lucas. The greater part of the work concern Cerambycids. James Thomson (1828-1897) was an American by birth who lived in France most of his life. He wrote a number of papers on Coleoptera and formed a large collection which was sold to René Oberthür. Clear dampstain at the lower part of half the book.

Nissen ZBI, 4120.