---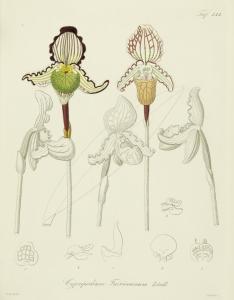 Xenia Orchidacea. Beiträge zur Kenntniss der Orchideen.
Eur 8,500 / USD 8,700
The price shown on each item does not include V.A.T (Value Added Tax). As a result of the recent EU legislation we are required to charge our EU customers the percentage of V.A.T. charged by the customer's country of residence, unless they possess a V.A.T. registration number. Postage Additional.
Leipzig, F.A. Brockhaus, 1858-1900. 3 volumes. 4to (275 x 210mm). pp. x, 246; vii, 232; vi, 192, with 300 (150 partly hand-coloured) copper engravings. Contemporary half calf, gilt lettered spines (some hinges repaired).
H.G. Reichenbach succeeded John Lindley as 'orchid king'
One of the rarest works on orchids. Heinrich Gustav Reichenbach (1824-1889) became the foremost German orchidologist of the 19th century, his father being a well-known botanist. H.G. Reichenbach succeeded John Lindley as 'orchid king'. "Orchid specimens from all over the world were sent to him for identification, and these, together with his copious notes and drawings, forms an immense herbarium which rivaled that of Lindley at Kew" (Reinikka, 'A history of the orchid', p. 215). After Reichenbach's death the work was continued by Kraenzlin. The fine plates are after drawings by Reichenbach, Wendland, Giraud and Kraenzlin. The colouring of the coloured plates is confined to the flowers. As all copies only 150 plates were partly hand-coloured.

Nissen BBI, 1609; Stafleu & Cowan 8894.