---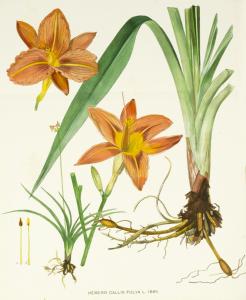 Flora Batava, afgebeeld door en van wegens J.C. Sepp en zoon; beschreven door Jan Kops.
Eur 18,500 / USD 20,400
The price shown on each item does not include V.A.T (Value Added Tax). As a result of the recent EU legislation we are required to charge our EU customers the percentage of V.A.T. charged by the customer's country of residence, unless they possess a V.A.T. registration number. Postage Additional.
Amsterdam, Leiden, Haarlem, s'Gravenhage, J.C. Sepp en Zoon, and others, (1800)-1920. Volumes 1-25 (of 28) & 1 index volume. 4to (295 x 240mm). With 1 handcoloured engraved title page and 2000 coloured plates, engraved and coloured by hand, lithographed and coloured by hand and chromolithographed. End 19th century uniform half calf, gilt and blind-stamped spines, marbled sides (some vols. early 20th century).
the most beautiful flora of the Netherlands
A fine, almost complete set, of the most beautiful flora of the Netherlands. During a period of 134 years 461 parts were published. As this is a most unusual long period of time complete sets are of the greatest rarity.

It is one of the great national floras and comparable in extent and span with the 'Flora Danica', the 'Flora Graeca' and a few others. The first 13 volumes were published by Sepp & Zoon, a firm which excercised the utmost care in producing colour-plate books of outstanding quality. The first 24 volumes have the plates handcoloured, the remaining volumes have chromolithographs. For the first 10 volumes Kops was the editor, to be followed by several other editors and publishers. The quality of the plates, especially of the earlier volumes, is excellent, and makes it one of the most attractive botanical illustrated works published in the Netherlands.

The index volume covers vols. 1-14. The text is both in Dutch and French. A complete copy has 28 vols with 2240 plates. The work was issued in 8vo and 4to. The present copy is the precious 4to edition. The first volume has a list of 232 subscribers. Little did they know that it would take 134 years for the whole work to be completed, so that none of them was to see the last instalment. As publication took so long, it became a true monument of nineteenth-century book production, since it is extremely rare for so many developments in printing and illustration techniques to be reflected in one single work.

Great Flower Books, p. 63; Nissen BBI 2247. Stafleu & Cowan II, 3874 (giving a very detailed collation and description); See also J. Baert, Jan Kops pioneer van Hollands landbouw, 1943.