---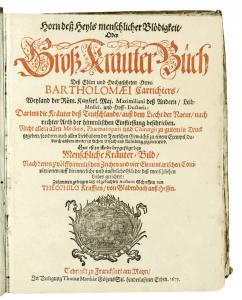 Horn des Heyls menschlicher Blödigkeit. Oder Gross Kräuter Buch... darinnen die Kräuter dess Teutschlands, auss dem Liecht der Natur, nach rechter Arth der himmlischen Einfliessung beschrieben... Hier ist zu Ende beygefügt das Menschliche Kräuter-Bild.
Eur 1,500 / USD 1,800
The price shown does not include 9% V.A.T. As a result of the EU legislation we are required to charge our EU customers 9% V.A.T., unless they possess a V.A.T. registration number.
Frankfurt am Mayn, T. M. Goetzens Erben, 1673. 4to (207 x 165mm). pp. (36), 374, (16, index), with title printed in red and black and about 50 woodcuts of plants. Contemporary vellum, old repair to spine.
the plants are arranged acording to the signs of the zodiac
A somewhat browned copy of the last edition of Carrichter's famous herbal of which the first edition was published in 1576. Carrichter was physician to Maximilian II and Ferdinand I. "In this astrological 'Kreutterbuch' of Bartholomaeus Carrichter , the plants are arranged according to the signs of the zodiac, but the principle on which this allotment is made remains mysterious to the lay mind. Much stress is laid upon the hour at which the herbs ought to be gathered, particular attention being paid to the state of the moon at the time"(Arber p. 258).

Pritzel 1542.