---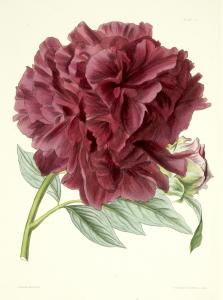 By John Lindley and Joseph Paxton.
Eur 1,000 / USD 1,000
The price shown on each item does not include V.A.T (Value Added Tax). As a result of the recent EU legislation we are required to charge our EU customers the percentage of V.A.T. charged by the customer's country of residence, unless they possess a V.A.T. registration number. Postage Additional.
London, Bradbury & Evans, 1850-1853. 3 volumes. 4to (258 x 202mm). pp. iv, 194; 186; 178, with 105 (of 108) fine handcoloured lithographed plates and 314 text-figures. Contemporary half calf, backcover hinge of one volume loose.
One of the most attractive works on garden flowers by two eminent British botanists. In our copy plates 79-81 are lacking. The excellent plates are by L. Constans. 'L. Constans and E.A. Prévost, both of whom were working about 1840-50, produced paintings of miraculous fine quality' (Blunt & Stearn p. 268). Sir Joseph Paxton (1803-1865) was head gardener to the Duke of Devonshire at Chatsworth, where he achieved the first blooming of the 'Victoria amazonica'. Paxton's successes at Chatworth brought him numerous commissions for the design of large scale public gardens. He is also well known for his periodical 'Paxton's Magazine', published in 16 vols from 1836-49. However the illustrations for the above work are superior to that in the 'Magazine'.
John Lindley (1799-1865) was assistant librarian of Sir Joseph Banks and became professor of Botany at the University College London and was Britain's pioneer orchidologist. He published a number of important botanical books such as the 'Sertum Orchidaceum' and the 'Digitalium Monographia'. Like Paxton he was one of the founders of the 'Gardener's Chronicle'. 'He was one of the most eminent, industrious, versatile, public-spirited and productive of Victorians - gardener - botanist, botanical artist, author of textbooks, university professor, editor and journalist' (Stearn).

A few plates with some very slight foxing. There is some more foxing to the text which is printed on inferior paper.

A second edition of the 'Flower Garden' was published in 1882-84 with inferior chromo-lithographed plates.

Great Flower Books 65; Nissen BBI, 1498; Pritzel 5369. See also Stearn, W., John Lindley 1799-1865.