---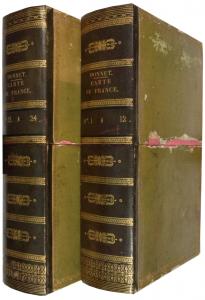 Carte topographique, minéralogique et statistique de la France réduite de celle de Cassini, à l'échelle de 1/388800 (1 lig. pr. 450t). Rectifiée d'après les nouvelles Observations astronomiques, les levés du Cadastre., les Travaux des Ponts-et-Chaussées, des Mines &c. Dressées et dessinée par Alexis Donnet... Gravées par R. Wahl, Dandeleux et Malo... La lettre gravée par A. Peliciers.
Eur 8,500 / USD 10,200
The price shown does not include 9% V.A.T. As a result of the EU legislation we are required to charge our EU customers 9% V.A.T., unless they possess a V.A.T. registration number.
Paris, chez Hyacinthe Langlois, 1817. Engraved map, comprising the 'Tableau d'Assemblage' sheet and24 numbered sheet (25 sheet in all), with borders hand-coloured and roads highlighted in red and orange. Dissected and mounted on 25 folding linen sheets, vellum pull tags lettered and numbered in pen. Contained in 2 contemporary French green quarter-morocco gilt cases.
A beautiful preserved copy. Alexis Donnet likewise is the author of a large map of Paris and environment.