---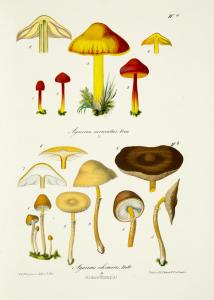 Naturgetreue Abbildungen der vorzüglichsten essbaren, giftigen und verdächtigen Pilze, mit besonderer Rücksicht auf die verschiedenen Altersstufen von der ersten Entwickelungbis zum ausgebildeten Wachsthume.
Eur 3,600 / USD 4,000
The price shown on each item does not include V.A.T (Value Added Tax). As a result of the recent EU legislation we are required to charge our EU customers the percentage of V.A.T. charged by the customer's country of residence, unless they possess a V.A.T. registration number. Postage Additional.
Dresden, Adler & Dietze, 1842-45. 4to (304 x 230mm). pp. x, (2, register), 136, with 1 plain and 80handcoloured lithographed plates. Contemporary green half morocco, spine in 6 compartments with gilt lettering.
Mit viel Vergnügen habe ich die herrlichen Abbildungen des Herrn A. Harzer gesehen
A very fine copy of one of the rarest German books on fungi. The last copy we sold was in 1958. Carl August Friedrich Harzer was a German naturalist and artist at Dresden, initiator and co-founder of the Dresden society 'Iris'. According to Stafleu and Cowan this is the second issue imprint. In the preface by Ludwig Reichenbach the following is written: "Mit viel Vergnügen habe ich die herrlichen Abbildungen des Herrn A. Harzer gesehen und habe mich überzeugt, dass derselbe auch dem Studium der Pilze, die ausgezeichnete Sorgfalt zugewendet hat, welche wir schon seit langer Zeit an seinen entomologschen Darstellungen bewundern. Aus diesen Abbildungen sieht man, was das bedeutet, wenn sich das Talent der Beobachtung, des Zeichnen, und Lithographirens in einer Person vereinigt". The excellent plates are drawn and lithographed by the author.


Stafleu & Cowan 2454; Nissen 811.