---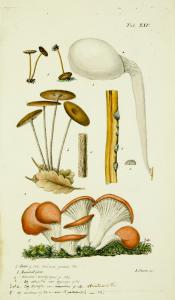 Mycologia Europaea seu completa omnium Fungorum in variis Europaeae regionibus detectorum enumeratio, methodo naturali disposita; descriptione succincta, synonymia selecta etobservationibus criticis additis.
Eur 2,500 / USD 2,500
The price shown on each item does not include V.A.T (Value Added Tax). As a result of the recent EU legislation we are required to charge our EU customers the percentage of V.A.T. charged by the customer's country of residence, unless they possess a V.A.T. registration number. Postage Additional.
Erlangae, I.I. Palmii, 1822-1828. 3 volumes. Royal-8vo (220 x 125mm). pp. (2), 356, (2); 214, 9(1);(4), 282, with 30 handcoloured engraved plates. Contemporary boards, uncut.
rare mycological classic
Persoon will always be best remembered as a mycologist, and his reputation rests mainly on his eminent works 'Observationes', 'Tentamen', 'Synopsis', and the above unfinished 'Mycologia', of which only three volumes have been published. Its delicately executed and handcoloured plates are all engraved by the famous J. Sturm, 10 of which after drawings by the well-known French artist Poiteau. Persoon's herbarium is preserved at the Rijksherbarium in Leiden together with his libary. A fine copy of this rare mycological classic.

Provenance: bookplate of Dr. J.R. Chapuis.

Nissen BBI, 1513; Pritzel 7064; Stafleu & Cowan 7736.