---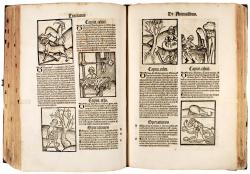 De Herbis et Plantis. De Animalibus et Reptilibus. De Avibus et Volatilibus. De Piscibus et Natatilibus. De Lapidibus et in terre venis nascentibus. De Urinis et earum speciebus. Tabula medicinalis cum Directorio generali per omnes tractatus..
Eur 32,000 / USD 36,800
The price shown does not include 9% V.A.T. As a result of the EU legislation we are required to charge our EU customers 9% V.A.T., unless they possess a V.A.T. registration number.
[Strassburg, Reinhard Beck], 1517. Folio (303 x 202 mm), ff [356], with figurative woodcut title border with putti and monkeys climbing a grape arbour with blank shield below, title printed in red and black, title to second part (K1 recto) with four woodcuts, full-page skeleton cut on verso, small cut of woman and physician holding a urine flask on Gg1 recto, and 1066 woodcut illustrations in the text, a few minor tears repaired, some occasional staining, vellum index tabs, a very attractive copy in contemporary German binding of oak boards, remains of clasps and part of a stud for a chained binding, bosses removed, half blind-stamped calf with fleurons, crowned eagle, fleurs-de-lys, and initials S.S. in blind, rebacked.
The 'Hortus sanitatis', in its many editions and translations was the most popular and influential herbal of its time
Sixth edition (first 1491), and the fourth Strassburg edition (first 1496), being an almost unaltered page-for-page reprint of the three earlier Prüss editions, Beck having inherited Prüss's printing house. A few of the woodcuts are new, and a few were recut as the originals were damaged.
The 'Hortus sanitatis', in its many editions and translations was the most popular and influential herbal of its time, and served as an encyclopaedia of the plant, animal, and mineral kingdoms and the medical applications of their products. This edition was the prototype for all subsequent editions.
'Prüss was the man who really profited by the edition of the Latin Hortus (Meydenbach could not issue a second edition); for his editions are printed with wide economy of paper... by the use of 55 lines to the column and a smaller type... The text cuts are copied from those of Meydenbach, but sometimes several of them are used twice, if similar figures were involved. The most interesting of the new cuts are some of the genre pictures (especially those to the parts on zoology and mineralogy), for the draughtsman worked on these more individually with regard to the costumes, which represent those in use in Alsace at that time. The woodcut of the human skeleton appears here for the first time in an edition of the Herbals, and was added to nearly all the following Latin, French, and also to some German editions of the Hortus up to about 1540. This skeleton picture... represents, from a graphic viewpoint, the best that was published of this kind before Vesalius.

A large section of the book is devoted to zoology, 164 chapters concern land animals, 122 birds and 106 fishes. Camels are portrayed and described in chapters xxvii, xviii and xxix of the section concerning land animals, they are among the earliest portrayals of these animals. The section on birds, shows woodcuts of a falconer with several falcons, as well as several birds of prey and some other falcons. These woodcuts belong to the earliest portrayal of these animals in a printed book.

Generally speaking, this edition of Prüss, and not the original edition of Meydenbach, seems to have been the model for all the later Latin editions of the Hortus and its translations into French and German' (Klebs, Early herbals).
The Prüss editions were first appearance of this group of woodcuts, and became the model for all subsequent Hortus editions and vernacular versions. Many of the genre cuts derive from images on playing cards. The large woodcut of the skeleton is taken from Brunschwig's Chirurgia. The fine title border has been variously attributed to Urs Graf, Hans Wechtlin or Hans Baldung Grien.

Adams H1019; Cushing H463; Durling 2469; Fairfax Murray German 195; Hunt 18; Klebs Early herbals 50; Nissen BBI 2366.